20 Gift Ideas Under Ten Bucks!
Because, time is running out for many of us.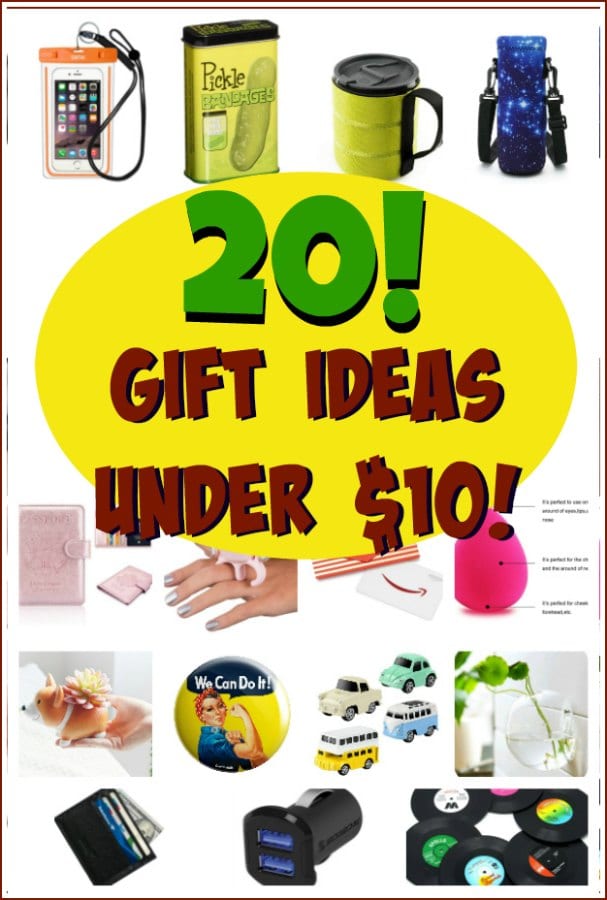 20 Gift Ideas Under Ten Bucks!

Thankfully, there is a lot we can buy for ten dollars.
Sometimes, it is the ten dollar gifts that are the most liked as well.

You really do not have to spend a lot of money on a gift to make for great gift giving.
However, most folks seem to like to be appreciated. This is a great way to do that.

I like the flexibility of a ten dollar and under gift.
Besides making someone happy, these gifts are pretty cool.
Also, they are great for stocking stuffers as well.

Here are some similar ideas that you may also like.
Keep up to date with my recipes
You can check out my guide on baking with sugar alternatives on Amazon

I have some great tips on which alternatives may work in a recipe such as this one.
Be sure to follow me on facebook and subscribe to my recipes via email to keep up to date as well.
20 Gift Ideas Under Ten Bucks!
1. 4 PCS Pull Back Cars Alloy Vehicles Set Mini Car
2. Premium Leather RFID Blocking Wallet Case for Passport
3 Polish Holder
4 Waterproof PVC Poker Playing Cards
5 ReVolt Compact Dual Port USB Fast Car Charger with Illuminated LED Backlight
5 Leather Slim Wallet
6 Make Up Sponges for Concealer & Pressed Powder,latex free,Multi-Color,5PACK.
7 Wall Hanging Plant Terrarium Glass Planter
8 No Static Dual Action Beard Comb
9 Pickle Bandages
Also available in bacon!
10 Universal Waterproof Case for Smartphone Device
11 Nalgene Translucent Wide Mouth Bottle
12 Cute Animal Shaped Cartoon Home Decoration Succulent Vase
Many different animals to choose from.
13 Outdoors Infinity Backpacker Mug
14 Vinyl Record Disk Coasters for Drinks
15.Wine Themed Someecards Coasters - Assorted 6 Pack
16
17.Water Bottle Carrier Holder Sleeve 24oz (750 Milliliter) w/Adjustable Shoulder Strap.
Comes in many designs!

18.Rosie the Riveter World War II 2.25" Pinback Button
19.Multi-Tool Carabiners with Durable, Compact Stainless Steel Construction
20. Amazon Goodies.
3 Months for 99 cents!
$7.99/mo after
New subscribers only. Terms apply.
See MANY E-Gift cards here (print it yourself or just sent it via email to someone!).