I like a snack that is quick and easy to make.
I really like a snack that gives me energy and makes me feel as if I am eating something healthy.
5 Ingredient Energy Ball Recipe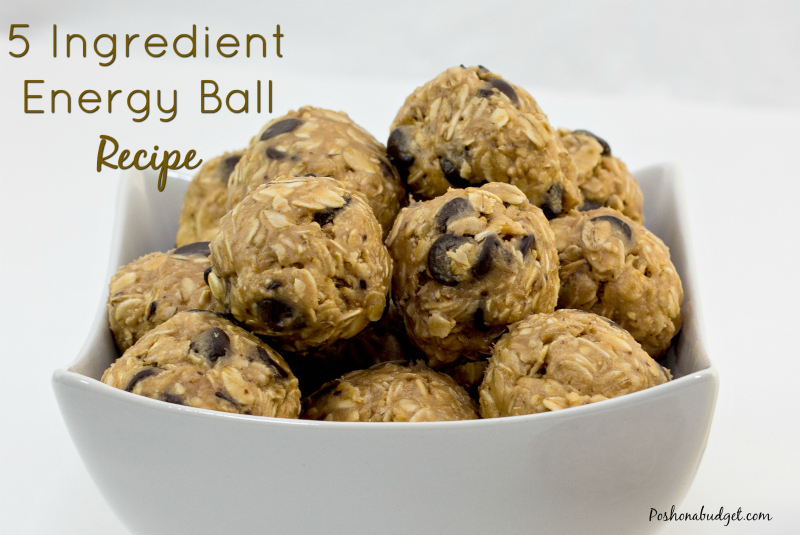 On those days when I am in a hurry to get out of the house and I need something quick to eat on the fly, I reach for an energy ball.
I like to make a batch of these balls and freeze them away for when I need one. I wrap them individually in a small piece of parchment paper and then put them in a bag in the freezer.
Energy balls are an easy snack to enjoy when you are in a hurry and are looking for something that feels healthy to eat.

5 Ingredients is a nice number of ingredients for an easy recipe.
This recipe calls for seeds. While you can use one kind of seed, such as flax or sunflower, it can be kind of fun to experiment with using more than one kind of seed. I like a mix of flax with a bit of Quinoa thrown in . Now that is some great energy for on the go!
You do not have to use chocolate chips either.
I admit that I am a fan of chocolate. I like to stick to the sugar free variety of chocolate chips because I am sensitive to sugar. You could easily replace the chocolate chips with dried fruit. You could even keep the chocolate chips and add a half cup or coconut flakes to amp up the taste a notch.



This recipe calls for peanut butter.
I prefer a smooth peanut butter as it is easy for me to work with when I am rolling out the balls. I usually have some fresh made at the store or at home peanut butter around to use. Other butters that would work for this recipe would include most any nut butter.
5 Ingredient Energy Ball Recipe

By TheSugarFreeDiva.com
A really easy way to make energy balls using only 5 ingredients.
Ingredients
1. Honey — 1/3 cup
2. Oats– 1 cup old fashion
3. Chocolate Chips- 1/2 cup- can use carob or sugar free
4. Peanut Butter- 1/2 cup, can sub in similar but butter
5. Seeds- ground flax, Quinoa or sunflower-1/2 cup total can use one or combination as long as total is 1/2 cup
HOW TO MAKE THIS
1.Combine together all ingredients in a bowl.
2. When well mixed together, chill in the refrigerator for at least 45 minutes.
3. Roll into 1-1 1/2″ balls.
Experiment with other ingredients such as coconut flakes, chia seeds, dried fruit for a bit of a change.
Prep time:
Cook time:
Total time:
Yield: 18-20 depending on size.
I love that the sugar in this recipe comes from natural honey.
We have some fabulous local honey to choose from!