This Roasted Cauliflower in Garlic Cheese Sauce recipe is simple to make and tastes really good to eat.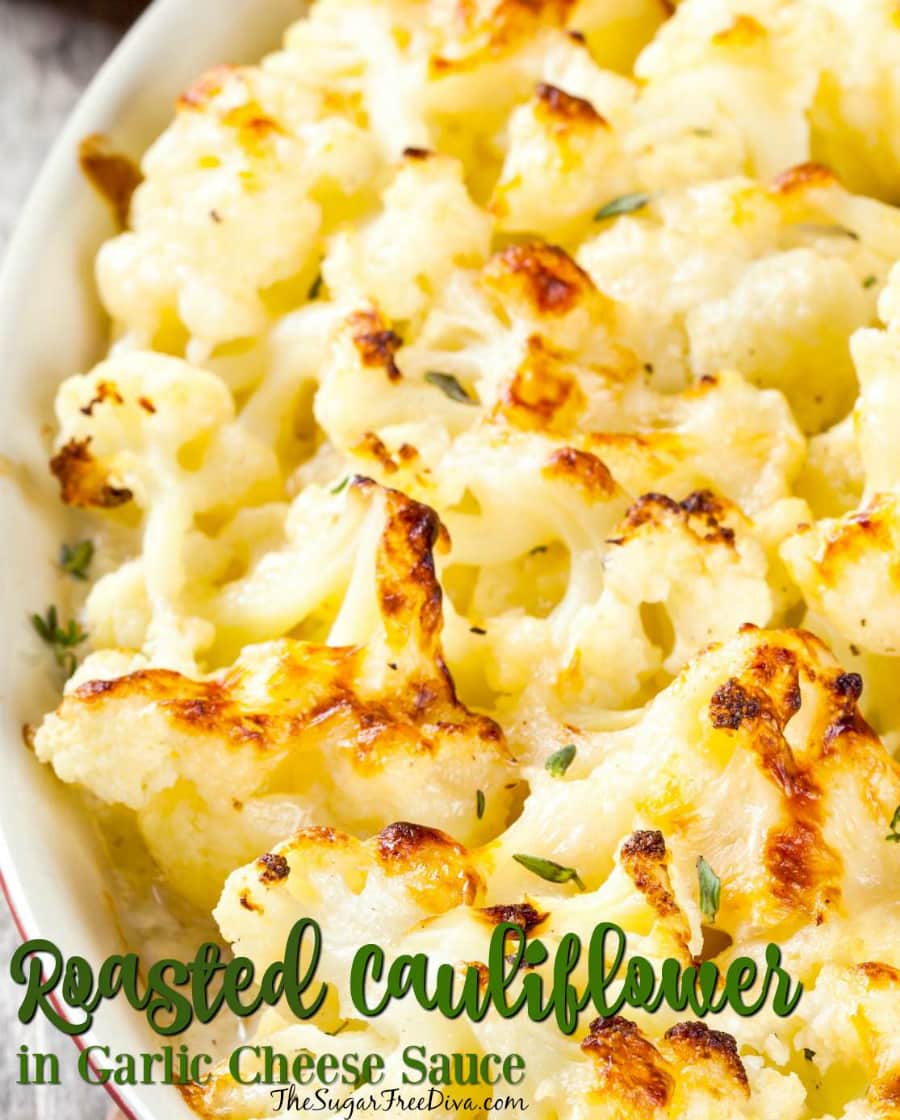 Roasted Cauliflower in Garlic Cheese Sauce
This recipe is roasting with a bit of 'sauce' involved.
I love Greek Yogurt and I love adding Greek Yogurt to my recipes.
There has been a bit of Greek Yogurt added to this recipe to give the cauliflower a hint of sauce while actually being roasted.
I admit that I may have stretched a boundary of terms by calling what surrounds the cauliflower "sauce".
While it is not a 'true sauce' the sauce in this recipe is more of a 'diet-friendly' version of a sauce. You can omit the Greek Yogurt or double the amount that you add when you make this to appease your preferences.
This recipe actually got me to eat my cauliflower.
I like that the cauliflower in roasted yet, not too dry to enjoy. I used an Italian seasoning to give this some added taste. My seasoning had a light touch of salt as it was a general Italian style seasoning. You are welcome to use your favorite seasoning as the salt does not have to be there if you are avoiding salt in your diet.
Cauliflower has some great nutritional benefits to it.
One head of cauliflower is loaded in Vitamin B-6, potassium and fiber. Cauliflower is seriously loaded in Vitamin C with over four times the amount that is recommended in a day.
Roasted Cauliflower in Garlic Cheese Sauce
A really tasty way to enjoy cauliflower with a light sauce.
Ingredients
Cauliflower- 1 head cut into chunks/florets
Olive Oil- 1/3rd Cup Greek
Yogurt- 1/3rd Cup
Garlic Cloves- 4 cloves sliced thin
Grated Parmesan Cheese- 1/4 cup
Italian style seasoning (or oregano+parsley+salt)– 1 tsp
Instructions
Preheat the oven to 425, prep a jelly roll pan for nonstick.
In a small bowl or a cup, whisk together your olive oil,seasonings and yogurt.
Toss the cauliflower in a large bowl with the whisked together olive oil, Greek Yogurt, garlic and seasoning.
Spread the tossed cauliflower mixture evenly on the prepared pan.
Sprinkle with the cheese.
Roast for 10 minutes, stir the mixture and continue baking for another 10-15 minutes or until cauliflower is finished.
https://thesugarfreediva.com/718/
Recipe courtesy of TheSugarFreeDiva.com
What do you serve this Roasted Cauliflower in Garlic Cheese Sauce with?
Since there is a bit of garlic in this, I would pair this with a less- flavorful meal. I like tuna steaks or maybe a roasted chicken. A glass of white wine would be nice too. 🙂