I love how No Sugar Added Chocolate Chip Banana Muffins are so moist.

No Sugar Added Chocolate Chip Banana Muffins
Chocolate chip banana muffins are kind of like a special treat for breakfast.
The first time that I made chocolate chip banana muffins for my kids. They really loved them. There is something about these muffins that calls for milk with them. My kids picked up on this and they were right.
People have been substituting bananas for oil in recipes for a while.
While you can sub in bananas, it is not recommended that you substitute it for the entire amount of oil needed. This is because a complete substitution can alter the texture. This is true of most anything you may be baking. However, you can substitute mashed bananas for one half of the indicated amount of oil in a recipe.
Also about this No Sugar Added Chocolate Chip Banana Muffin Recipe
The sugar that is introduced into this recipe comes from the banana. We will add sugar free chocolate chips.
You can find sugar free chocolate chips on Amazon.
We know that most basic recipes for banana muffins call for some added sugar.

Because I prefer to go as low as possible on the sugar, I am limiting my sugar added to this recipe. This sugar comes naturally in the banana itself. Bananas are naturally nearly fat free and low in cholesterol. Bananas also contain a good supply of potassium, Vitamin B-6 and Vitamin C.
However, we will also be adding a sugar alternative to this recipe in addition to the banana.
You can use the sugar alternative of your choice. You can simply use the amount of that alternative that is equivalent to the amount stated in this recipe. Hence, not all sugar free alternatives are the same equivalent in recipes.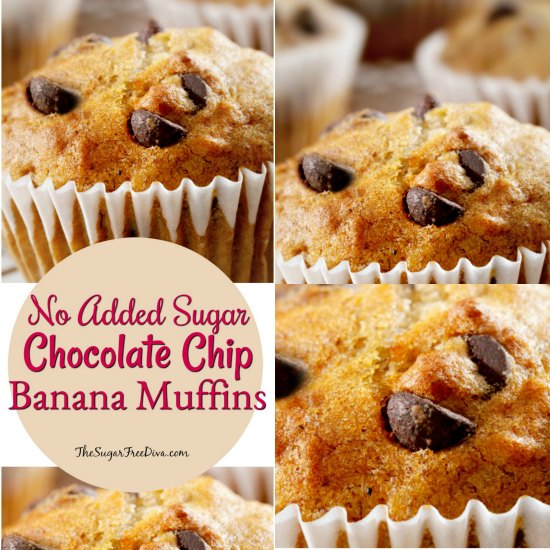 The Recipe
print recipe

No Sugar Added Chocolate Chip Banana Muffins
Every now and then, I like to add some chocolate chips to my muffins. Luckily, there are sugar free chocolate chips out there to make me happy.
Ingredients
Flour- AP–1 1/2 cups 

Sugar Alternative–2/3 cup equivalent 

Baking Powder–1 1/2 tsp 

 Salt–1/2 tsp

 Egg–1 large

 Bananas–2-mashed

 Butter–1 stick melted or oil 1/2 cup

Greek Yogurt–1/4 cup -can sub in milk 1/4 cup

Sugar Free Chocolate Chips–3/4 Cup 

Vanilla Extract–1 tsp 
Instructions
Preheat your oven to 350 while you work. Also prep your pan for nonstick.
In a large mixing bowl, combine your flour, sugar alternative, baking powder and salt.
In a separate bowl, mix together your vanilla extract, yogurt, and butter. Add your bananas and continue to mix.
Gently stir your wet ingredient mix into your flour, taking care to not over mix.
Fold in your chocolate chips. Finally, ill your muffin cups about 2/3 full. Optional- sprinkle sugar alternative and/or ground cinnamon on top.
Bake for 25-30 minutes or until a toothpick comes out clean. Also note; test where there is no chocolate for best results.
Details
Prep time: Cook time: Total time: Yield: 10-12 depending on size
While you are here, you may be interested in these most noteworthy, especially relevant recipes.