I am pretty excited that I just found Chocolate that is Sugar free, Low Carb, No Sugar Alcohol, and more!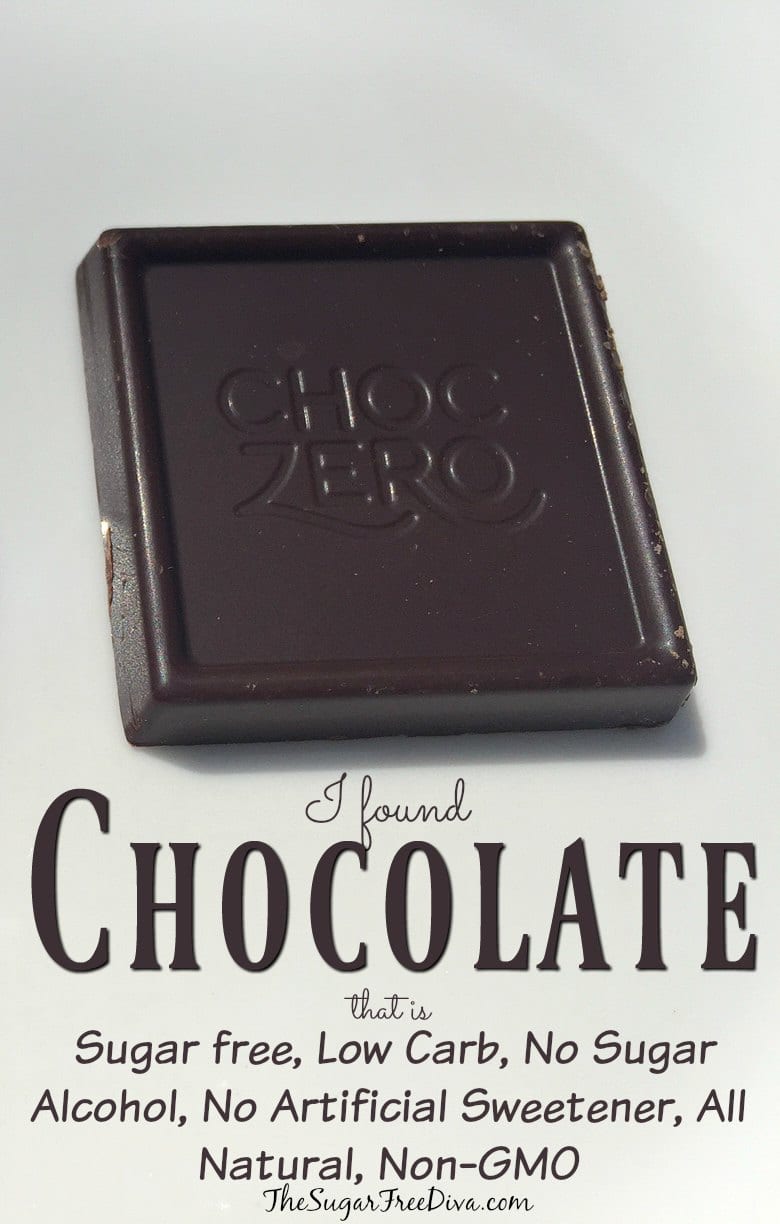 Chocolate that is Sugar free, Low Carb, No Sugar Alcohol, etc
The scoop is this.
This candy can be found on Amazon.
Wow! Finally something that is as good as it seems!
I was pretty excited to find this candy. I was also a bit skeptical. And then I read all of the good reviews. There were many of them too.
The company says that this candy is:
Fair-Trade Premium Cocoa Beans, Tastes Delicious!
Sugar Free, No Sugar Alcohols, No Artificial Sweeteners. Sweetened with our exclusive Monk Fruit and Fiber blend, Perfect for Diabetics
Low Carb, Only 1g Net Carb per serving! Perfect for Keto Diet.
All Natural, Non-GMO, Kosher Certified. Made in USA.
Antioxidant-Rich, Teeth-Friendly, Waistline-Friendly.
Ingredient on the package:
Dark Chocolate (Unsweetened Chocolate, Cocoa Butter), Soluble Corn Fiber, Sunflower Lecithin, Monk Fruit Extract, Madagascar Bourbon Vanilla Beans. May contain milk, wheat, soy and nuts
Everyone is asking about the taste of this chocolate.
Because this chocolate is missing the added sugar as well as other ingredients that are normally seen in candy, it may not taste good. However, it does taste good. This chocolate tastes surprisingly great despite having no sugar and no carbs.It was not hard to bite into like as expected. This chocolate tasted like chocolate with no sugar added to it.
Do you like the enjoy your chocolate without the added sugar or the effects of sugar alcohols ?
Because this candy is free of ingredients that people avoid, it is expected to not taste good. However, the lack of these ingredients makes little impact on the taste. Thus, this candy is a great choice for many. Especially for folks who like the taste of chocolate.
While you may be partial to a certain Cocoa percentage in your candy, see these additional choices because they are all similar:
ChocZero Premium Milk Chocolate, 45% Cocoa, No Sugar Added, Low Carb. No Sugar Alcohol, All Natural, Non-GMO –
ChocZero 50% Dark Chocolate, Sugar free, Low Carb. No Sugar Alcohol, No Artificial Sweetener, All Natural, Non-GMO
ChocZero 85% Ultimate Dark Chocolate, Sugar Free, Low Carb. No Sugar Alcohols, No Artificial Sweeteners, All Natural, Non-GMO
ChocZero 92% Ultimate Dark Chocolate, Sugar Free, Low Carb. No Sugar Alcohols. No Artificial Sweeteners. All Natural, Non-GMO