This Copycat Panera Broccoli Cheddar Soup is especially for those of us looking for a Low Carb Recipe.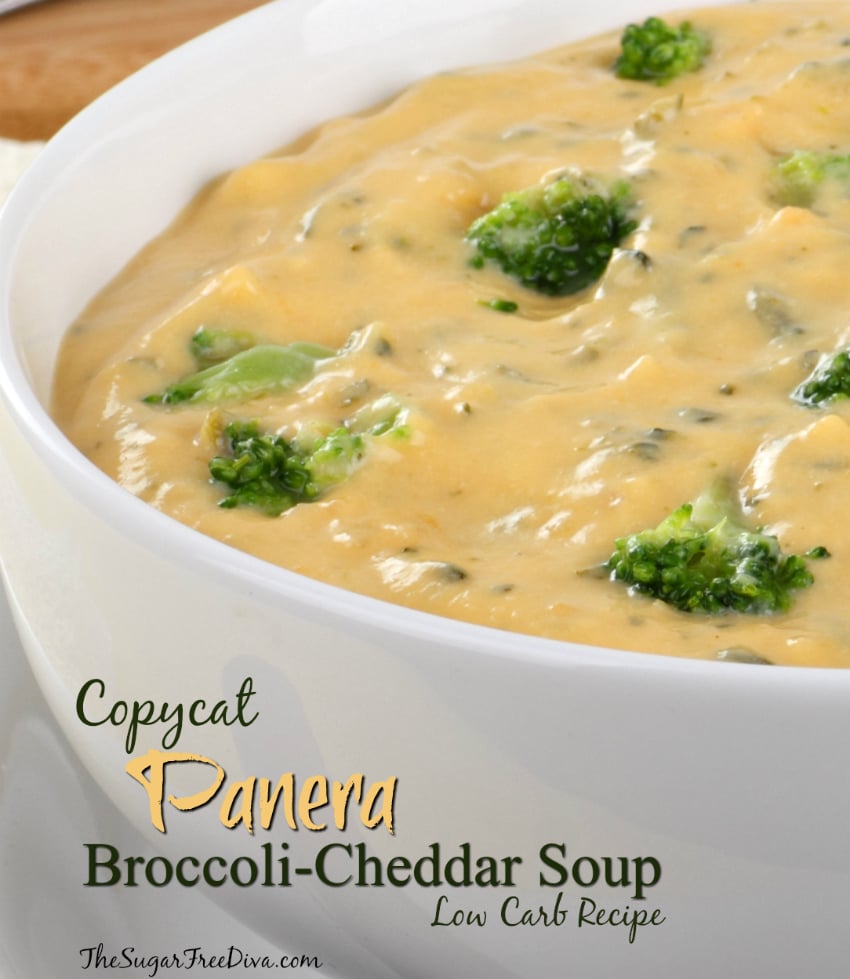 Copycat Panera Broccoli Cheddar Soup- Low Carb Recipe
A few weeks ago I has home sick with a really bad cold.
I was really needing some soup to get be through my illness. This soup was exactly what I needed because I needed something warm and filling.
Broccoli cheddar soup is usually pretty low in sugar.
There are not many ingredients that go into the average recipe for this that contain sugar. Carrots will sometimes be added in small amounts. It is the carrot that will contain the added sugar-about 2.9 grams of sugar. Adding a few slivers of carrot to this soup is optional as a result.
It really is the cheddar cheese that gives the rich flavor to this soup.
Sharp cheddar gives this soup a flavorful taste. Cheddar cheese will not add add to the sugar or the carbohydrate counts in this soup.  However, other versions of cheddar cheese can be used.
The big difference in this soup is the flour alternative used
We all know that regular all purpose flour is not carbohydrate free. Use an alternative to all purpose flour as a result.
Carbalose is the flour alternative of choice. Carbquick is another viable choice for an alternative to flour since it has fewer carbohydrates.
Both of these products are products that I use regularly when I am trying to knock down the carb count.
Carbquick is the 'baking mix' version of carbalose. Carbalose flour can be used as a wheat flour substitute because it behaves like wheat flour. Carbalose is made mostly from wheat, yet it lacks most non-fiber carbohydrates-containing 80% less carbs.
Other significant sources of carbs in this soup would normally come from cream or milk.
Greek Yogurt that is used should be  low in added sugar.  Hence, Greek Yogurt with added sugar will come with added carbohydrates due to the sugar . Alternatively,  substituting in water  is a way to lower  both the carbohydrates and  calories. However, water will  make this soup rather thin and less like the original recipe.

The low carb version of the Copycat Panera broccoli cheddar soup.
Ingredients
Butter- 1/2 stick melted
Flour alternative (see article) - 1/4 cup
Greek Yogurt- 1 1/2 cups
Skim Milk or water- 1/2 cups
Soup Stock - 2 cups- (can use 2 bullion+2 cups water)
Chopped Broccoli- 1 1/2 cups
Cheddar Cheese- 2 3/4 cups
Seasonings to taste- salt, pepper, etc
Optional- Carrots- cut into match-stick size slices 1/2 cup
Instructions
In a medium sauce pan over medium heat, whisk together the melted butter and flour alternative for 4-5 minutes or until the flour consistency changes.
Once the consistency of the flour alternative has changed, gently whisk in the Greek Yogurt and milk (or substitutes for these).
Once you have added the Greek Yogurt/milk and stirred it, you can add the soup stock and bring to a simmer stirring as needed.
When the soup has thickened, about 18-20 minutes, add the broccoli and continue to cook for another 20 minutes for the broccoli to soften. This is where you would add carrots if you choose to use them.
Remove the soup from the stove and stir in the cheese. Add any additional seasonings to taste and serve.
https://thesugarfreediva.com/copycat-panera-broccoli-cheddar-soup-low-carb/
Recipe courtesy of TheSugarFreeDiva.com