The other day I noticed that Starbucks had this recipe for an Iced Coffee Cocktail.
I'm usually the last person to think about coffee or cocktails made with coffee but, this iced coffee cocktail sure looked good. So, I thought that I would make it with no added sugar.
Sugar Free Copycat Starbucks Iced Coffee Cocktail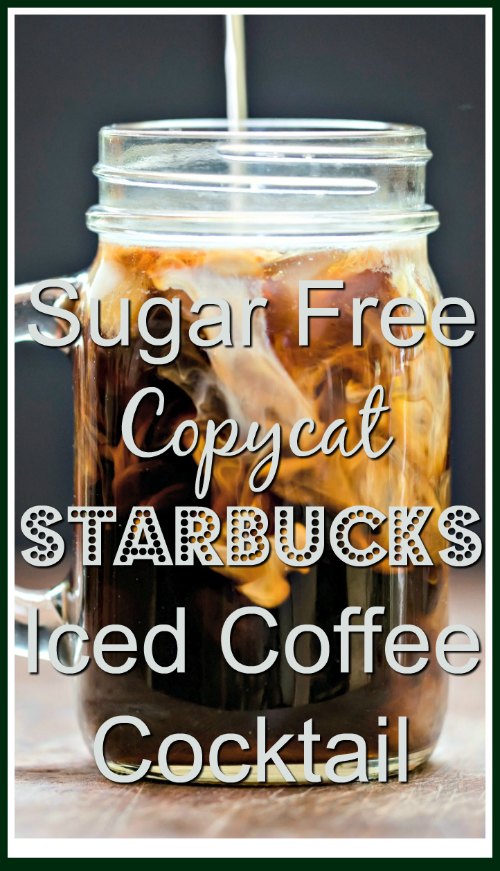 I have a friend who cannot live without her iced coffees.
We do a weekly fitness walk together and when it is warm outside, you can be that she has a beverage container with her on that walk. Inside of that container, of course, is iced coffee.
One problem that some folks have with some of the popular chain store coffee is the sugar that is in it.
Take a plain 0 carbohydrate 0 sugar coffee and put some whole cream and other sweet stuff into it and suddenly that coffee contains half a day's worth of calories. And let us not forget about the sugar jitters in that coffee.
The original cocktail recipe calls for a an ounce and a half of Vodka.
Obviously, we are not likely to drink a coffee with vodka added to it when we take the kids to school, go on a walk, or sit in the park reading a paper. But, the vodka could be a fun addition to a brunch coffee drink or a gathering of friends on your patio. So, adding the vodka to your coffee is certainly optional.
Typically, vodka contains no sugar or carbs in it.
Vodka is not a factor when it comes to the sugar free in this recipe. The vodka is just there for a kick of fun.
The original Starbucks recipe for this calls for Starbucks Breakfast Blend.
Breakfast blend from Starbucks comes in pods, whole beans, or ground. I found it seriously convenient that the Starbucks breakfast blend also comes in individual portion packs. Starbucks breakfast blend–Perfect if you want to wake up to a less intense coffee but still want a lot of character, it's lively with a citrusy tang that gives way to a clean finish
The Recipe for Sugar Free Copycat Starbucks Iced Coffee Cocktail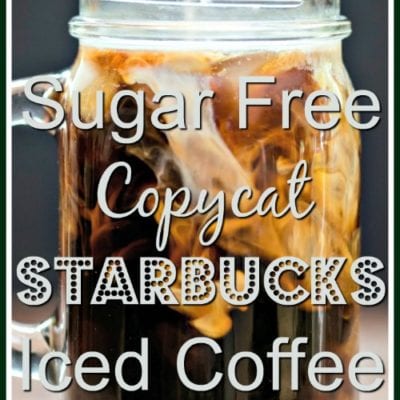 Sugar Free Copycat Starbucks Iced Coffee Cocktail
The sugar free version of a favorite Starbucks Drink
Ingredients
Starbucks Breakfast Blend

prepared and poured over ice.

To a 4 ounce

which would be 1/2 cup serving of Starbucks Breakfast Blend add:

Vanilla Vodka

can sub in regular vodka+1 teaspoon of vanilla extract per serving- 1 1/2 ounces

Greek Yogurt

sugar free or as low as possible sugar- 1 tablespoon
Instructions
Add ice to a mug or glass of choice.

Pour 4 ounces of coffee over the ice.

Stir the vodka and yogurt into your coffee and serve.
What would you drink this coffee with?