This Easy Individual Muffin Frittatas Recipe is a great idea for a breakfast idea that can be individualized for each guest.

MY LATEST VIDEOS
Easy Individual Muffin Frittatas Recipe
It's the protein from the eggs and the veggies that make for a perfect kind of a meal.
This is one of those delicious meals that you don't have to add anything that you cannot pronounce to.

This is a delicious way to enjoy eggs. Therefore, it is perfect for breakfast or brunch.
Make this meal even more by using a fun muffin tin to make it even more special.

A fun muffin tin or individual ramekin puts a more personal twist on this recipe. However, just using a regular muffin pan  or even individual ramekins would still taste just as great.
It is really nice that you can make this for breakfast, brunch or even lunch.

It is even nicer that the Frittata can really be eaten for any meal. The frittata is not just for breakfast. This makes for a delicious meal at any time of the day. Any cook can make this good.
Add delicious foods to a the eggs.

Fritatas are known for their eggs.
Eggs are the most important ingredient in this recipe. Hence, eggs are added to this. Vegetables are important as well. Using chopped green vegetables, such a spinach, kale or broccoli, adds not only color, they add taste and great nutrients.
Adding color is important to the frittata.
Once the green vegetables have been added, additional colors can be added. Tomatoes add a splash of red.
Adding some meat can add texture, color, and taste. Consequently, this will taste and look good.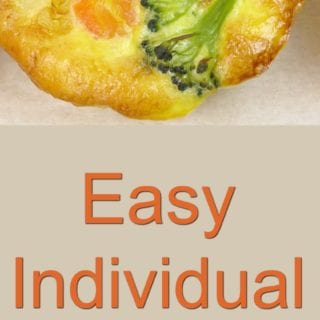 DELICIOUS! Muffin Frittatas
A fun and easy breakfast or brunch idea using eggs.
Ingredients
Eggs- 6

Greek Yogurt- 1/2 cup of - can sub in milk

1

cup

of veggies- see above- can use more than one kind to get to 1 cup.

If you are adding a meat

the meat will be part of the 1 cup total.

1

cup

Shredded cheese- such a cheddar

Colby Jack or mozzarella.

Seasonings to taste such as pepper

paprika, Italian seasonings or salt.

Olive oil as needed to prep pan
Instructions
Preheat your oven to 350.

Prep your pans for nonsitck using the olive oil on them.

Line the bottom of each cup with your veggie/meat, evenly dispersed among the cups and set aside.

In a medium bowl, whip together your eggs and yogurt.

Add any desired seasonings to this.

Layer the egg batter over the veggies and meat that are in each cup/tin.

Sprinkle the cheese over the whipped egg and then add any additional seasonings that you want to add.

Bake for 20-25 minutes or until to tops begin to brown. Allow to cool a bit before serving
The individual sized portions of this recipe make it easy to serve.
Because of the individual portions, the ingredients in each portion can vary. While one individual frittata may have vegetables, another my be the opposite and have meat. As a result, we can vary the ingredients to make each frittata more individual.