'This Easy Four Ingredient Oatmeal Peanut Butter Bar is really a tasty treat.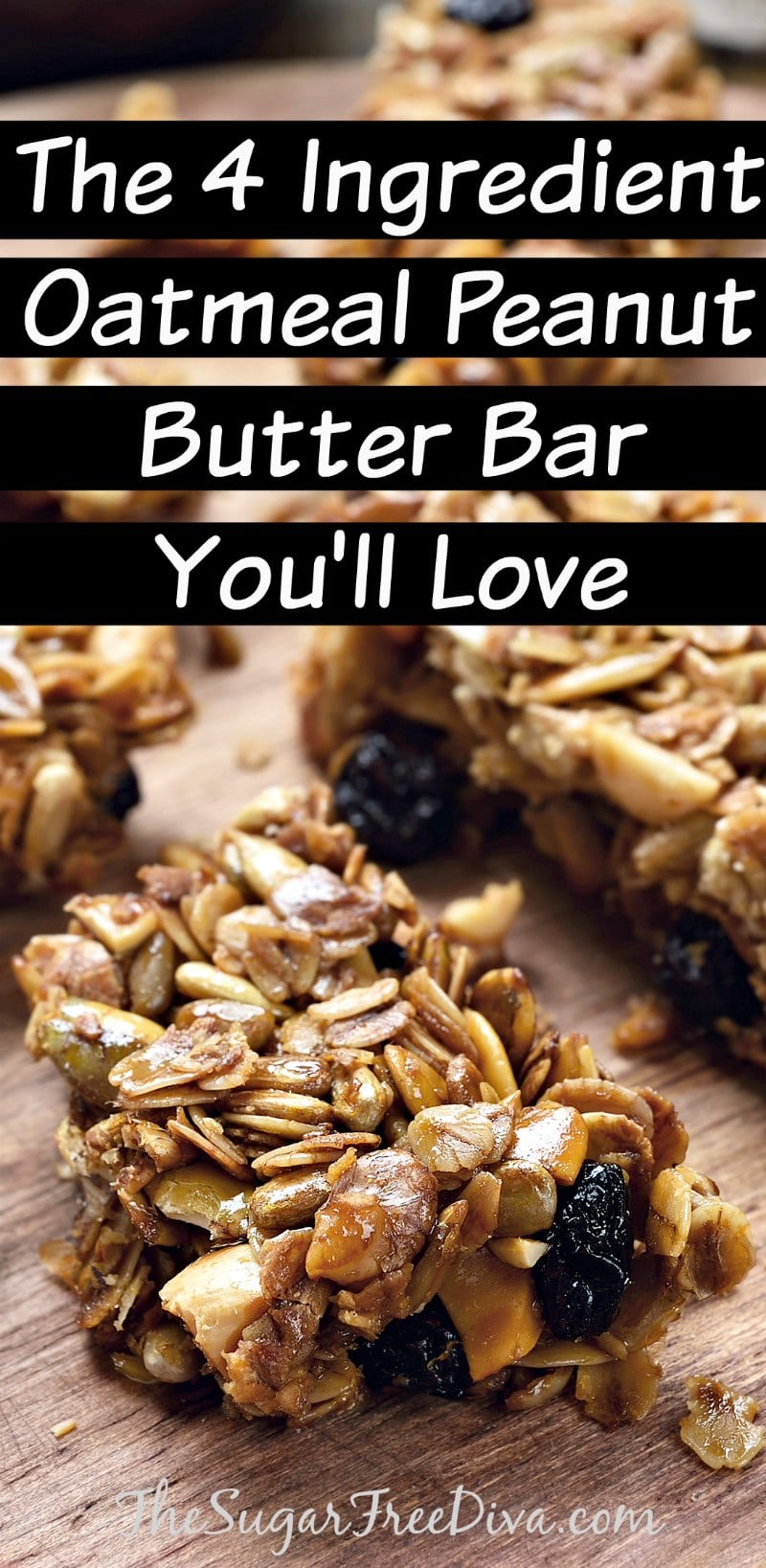 Easy Four Ingredient Oatmeal Peanut Butter Bar
A recipe that calls for only four ingredients is a simple recipe.
It is simple because there is not a lot to include in it. Because of this simplicity, this recipe is a quick on to put together as well.
These four ingredients may be sitting in your kitchen at the moment.
The kitchen in this house is always stocked with these ingredients. Hence, we enjoy this recipe quite often.
However, this recipe can be an all-natural treat or low sugar ingredients can be substituted in.
It is possible to make this a low sugar recipe, which is something that can be enjoyed.
Sugar free honey is more about enjoying the taste of honey than basking in the benefits of natural sugar. Nevertheless, the sugar free honey still works in this recipe.
The fourth ingredient is an optional ingredient.
Using chocolate chips, or sugar free chocolate chips, adds the chocolate taste to this bar. Adding raisins or nuts, adds more of a hearty taste.
This is a quick and easy treat that is pretty much a healthy treat.
Having this on hand offers a quick treat in a pinch. It also adds for a quick energy when needed.
print recipe
The 4 Ingredient Oatmeal Peanut Butter Bar You'll Love
I made mine low sugar because I have a sensitivity to sugar. You are welcome to go full-strength on the sweets if desired.
Ingredients
1 cup Peanut Butter-crunchy or smooth

1 cup Honey

2 1/2 Cups Rolled Oats

3/4 cup Optional- chocolate chips or raisins
Instructions
Line a 9X9 or 9X13 or similar sized baking dish with foil. Spray the foil with nonstick. Set aside.
You will be heating items either in a microwave or medium pot/sauce pan.Depending on what you use spray this with nonstick before you heat it.I'm using a microwave method.
In a medium bowl, add your rolled oats.
In the pot/pan or microwavable bowl that you have sprayed, combine your peanut butter and honey. Heat until melted, stirring occasionally.
Once the peanut butter and honey is melted, stir it into your oats and then add your chocolate chips or raisins. Sugar free people can add a tablespoon of sugar alternative sweetener if desired.
Keep mixing, you may need to use your hands at some point, until most of the oats seem to be mixed in.
Press this mixture into your baking dish until it is distributed evenly and packed in.
Transfer your baking dish to the refrigerator for at least 20 minutes.
When ready to serve, remover from the refrigerator. Place a cutting board over the baking dish and flip the dish over on to the board (upside down).
Remove the foil and cut into squares.
Enjoy!
Details
Prep time: Cook time: Total time: Yield: 18
Chocolate that is Sugar free, Low Carb, No Sugar Alcohol, etc