Follow this Easy Homemade Whole Wheat Pizza Crust recipe to make a delicious pizza in your own kitchen
Easy Homemade Whole Wheat Pizza Crust
Making a pizza homemade, in your own kitchen, is not as hard as someone may think that it is.
This pizza crust recipe uses whole wheat flour. Whole wheat flour is preferred by some for various reasons. However, any similar flour can be used in this recipe as well.
The trick to making a perfect pizza crust is knowing how to get the right consistency of ingredients.
When the right consistency of ingredients is found, the dough for the crust will be light and fluffy with no stickiness. The dough will also have a wonderful smell.
Making a crust yourself may seem to take a lot of time.
Allowing the dough to rise is important for the process. The perfect rise is important to the taste of the pizza as a whole.
This whole wheat pizza crust recipe also calls for no added oils.

While some pizza crust recipes call for olive oil to be added, this one does not. This crust is a delicious crust just the same however.
Salt is added to this recipe.

Salt gives a bit of taste to the crust that is a nice complement to the whole wheat flour. When added in the correct amounts, salt can improve the texture and fermentation of the dough, making the kneading and fermenting process even better. On the downside, too much salt in the crust can hinder these attributes. You know that you have added too much salt when the dough becomes hard to knead and the dough rises slower than it should.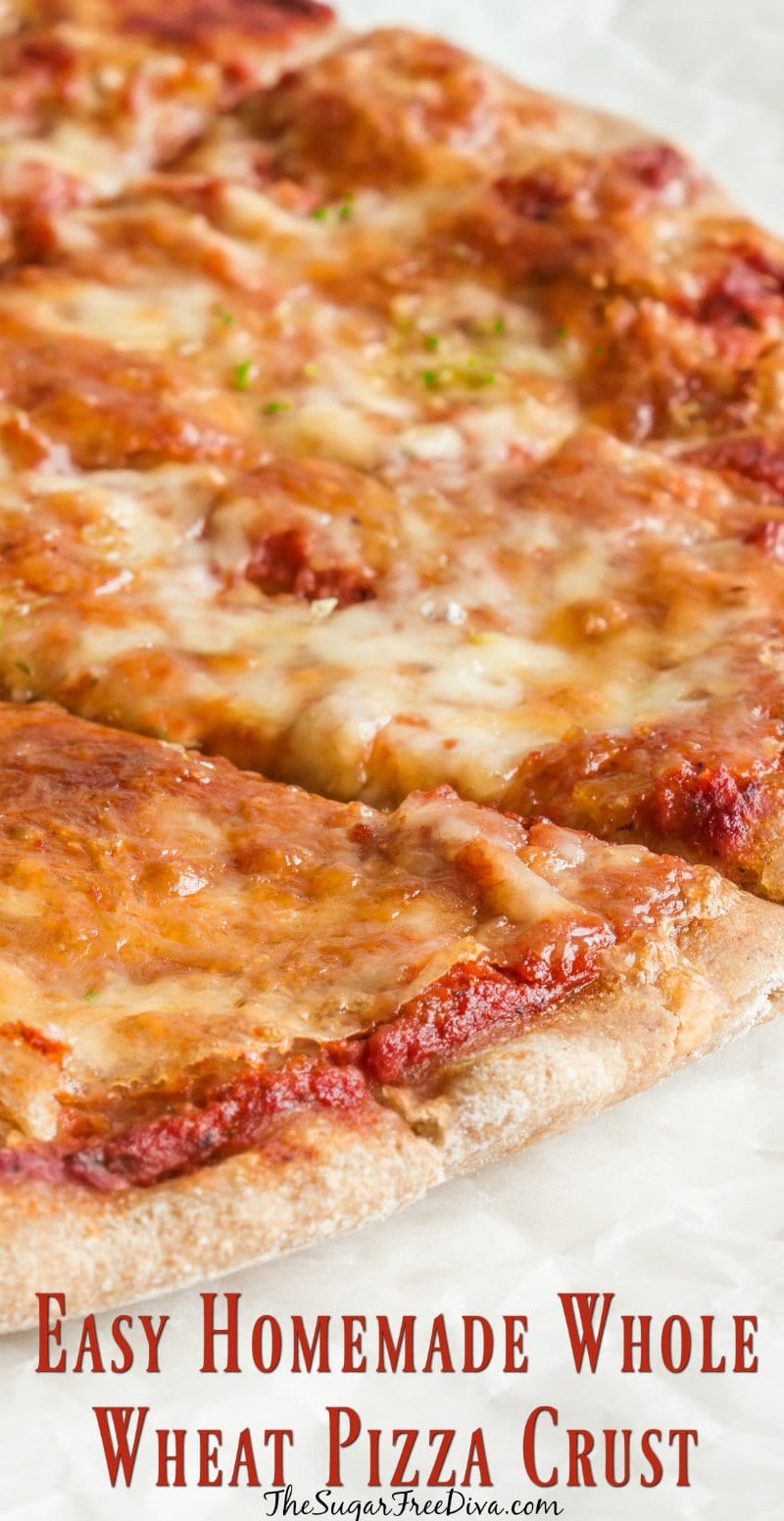 The recipe for my Easy Homemade Whole Wheat Pizza Crust
Using a stand mixer with a hook, making this pizza crust is so much easier to do.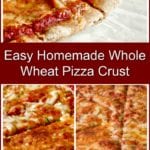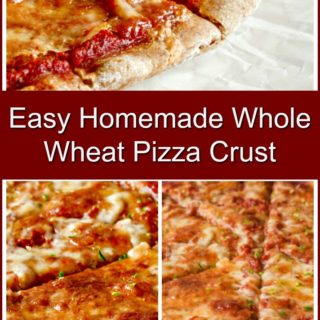 Print Recipe
Easy Homemade Whole Wheat Pizza Crust
Ingredients
Whole Wheat Flour- 4 cups

Active Dry Yeast- 2 packets

5 teaspoons

Salt- I like Kosher salt- 1 teaspoon

see above about adding too much salt

Warm water

tap- 1 1/2 cups
Instructions
In a large mixing bowl, combine together your water and yeast gently stirring with a fork.

Add the remaining ingredients and work into a ball (why I like my stand mixer with hook).

Lightly oil or spray with vegetable spray a medium mixing bowl. Place the dough in the bowl and cover loosely with a cotton breathable towel.

Allow the dough to sit in a warm spot for a couple of hours or until double in size. A quick rising yeast dough will obviously double in size sooner.

After the dough has doubled in size, punch the dough down and cover it again allowing it to sit for a half hour.

Roll the pizza dough out on a sheet of parchment paper that is cute slightly larger than the pan that will be used for the pizza.

Transfer the pizza crust on the parchment paper to the pizza pan and top as desired. Note: the pizza will bake on the parchment paper. If not using parchment paper, prepping that pan for nonstick is essential.

Bake at 450 for 15-18 minutes or until done.
Please note: Nutritional data has been calculated using a tool that comes with this recipe card and not by me. This means that Nutritional Information is only an estimate and can vary especially with ingredients that you use. The accuracy of this tool may differ from other tools as expected. Also note that there is no instructional value to the video that may be attached to this recipe. It is only there for visual pleasure. For more information about the images in this recipe, please refer the the recipe instructions. Thank you!
---
Follow Me
https://www.pinterest.com/thesugarfreediva/
https://www.facebook.com/thesugarfreediva/
https://thesugarfreediva.com/copycat-panera-broccoli-cheddar-soup-low-carb/