Impress your crowd with these Easy Shrimp Spring Rolls.

Spring rolls feature a bit of rice along with shrimp, pork or chicken and a bit of vegetables.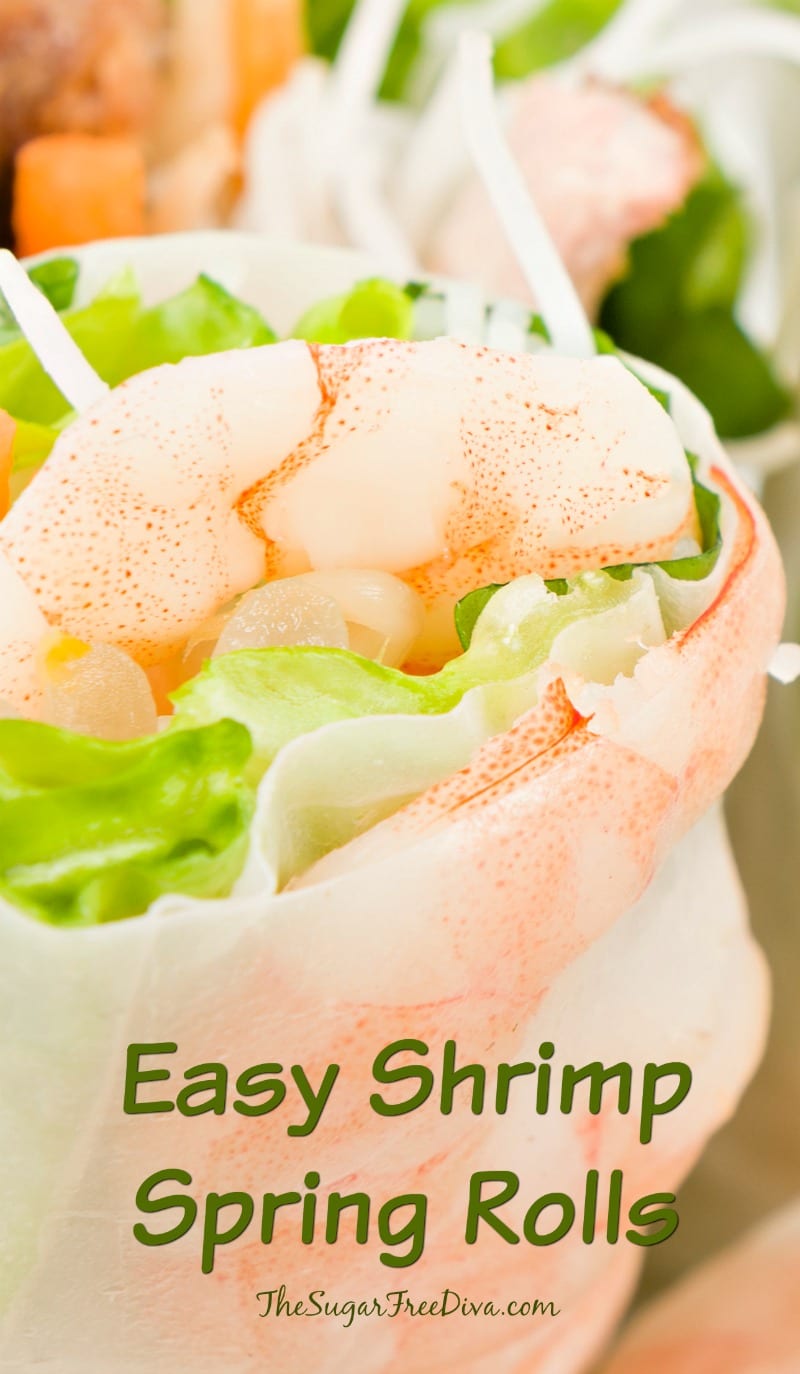 Easy Shrimp Spring Rolls
Spring rolls are an impressive and delicious appetizer that we can make at home.
This is a light and tasty recipe.
Because this calls for finding unusual ingredients, it is intimidating.
However, finding an Asian supermarket will make this easy to make. Larger and diverse supermarkets often carry the ingredients as well.
Personalize Spring Rolls with the ingredients.
The Asian method of making Spring Rolls includes rice vermicelli. Rice vermicelli is a thin form of rice (flour) noodles. Rice vermicelli is also used in stir fry recipes.
Also needed are rice wrappers.

Rice wrappers are close to translucent when used in recipes. Rice wrappers do not seem to add a whole lot of taste as they are really there to serve the purpose of holding the contents of the roll while giving us a sneak peek of what is inside.
As mentioned, these ingredients are found at Asian supermarkets.
A well-stocked grocery store with an Asian food area should have these items as well. Finding these ingredients is the hardest part of making this recipe.
Vegetables are important to Spring Rolls.

The vegetables assist in personalizing the taste of this.
Asian Spring Roll contain shredded carrots, mint, some kind of a lettuce green and a parsley such as cilantro. However, cucumbers, bay leaves, and peppers are also popular choices.
Sauce is an important ingredient.

Using an Asian sauce, such as a peanut sauce or hoison sauce, is a popular choice. The sauce can also be used for dipping the roll into.

This recipe calls for shrimp.
Shrimp is the 'protein' added to this as shrimp is light in taste and texture. Other proteins that are used are chicken stripes or beef strips.
American Style Spring Rolls Recipe
Ingredients
Rice Vermicelli- 2 ounces prepared as directed. Find this at an Asian store or well stocked grocery store with an Asian food area.
Rice Wrappers- 8 that are 8 1/2 inches round. Find this at an Asian store or well stocked grocery store with an Asian food area or sub in a regular wrap if you are desperate.
Protein ingredient. If using Shrimp- cooked, clean, peeled, and cut in half-10 medium or 8 large. Can use chicken, pork, sliced chicken nuggets etc instead.
Green herbs- 6-7 tablespoons total, can include (Asian)basil, cilantro, mint, bay leaves etc. chopped Lettuce leaves- about 2-3 per wrap.
Instructions
Warm 4 cups of water in a large pot or bowl. Do not boil.
Remove the water from heat.
Dip each rice wrapper individually into the water for just a second and then lay the wrapper flat on a cutting board or similar surface.
Starting with the lettuce leaves and then the shrimp, layer your ingredients in the middle of the wrap, leaving about 2? of the edge of the wrap free.
You will need about 1/4 cup of vermicelli, 2 shrimp, and herbs as needed placed over this. Fold the empty edges of the wrap in as you roll your wrap- kind of like a burrito.
Serve with your favorite dips.
https://thesugarfreediva.com/easy-shrimp-spring-rolls/
Recipe courtesy of TheSugarFreeDiva.com
Serve this with a chosen dip. However, using an Asian style dip would make this authentic.