It's summer and we are looking for A Most Fabulous Margarita Recipe!
This is a recipe for margaritas with no sugar added.
Known for it's refreshing taste of lime, a margarita is a fabulous choice for a summer barbecue or gathering. You can make this recipe with or without alcohol added. It really is a perfect summer beverage for us to enjoy.

A Most Fabulous Margarita Recipe
Margaritas are such a popular beverage for the people that I know.
We drink ours at gatherings or when we are out to dinner. In the summer we especially enjoy ours frozen on a hot day.
It seems as if most commercially or restaurant varieties of this beverage come with a lot of added sugar.
We know that much of that sugar can also be added calories too. This is why I like to make my own whenever I can do so.
Margaritas are that lime based drink that we associate with Mexican food
I have nothing against Mexican food as I enjoy margaritas with nachos etc with my friends and family whenever I am able to. This is a popular thing to do around here. You probably are fond of Mexican style food and drinks as well.
Most margarita recipes are comprised of three main ingredients.
The ingredients that you may add to a basic margarita include Tequila, Lime juice, and some kind of a sweetened mixer. That sweetened mixer is where the sugar will come in as most of these mixers have a bit of sugar added to them.
There is the question of over ice or frozen that we like to ask.
Frozen margaritas come with a lot of ice. That ice can help water down any added sugar or alcohol. Many of us agree that ice is also enjoyable when it is hot outside.
Some people call this a 'skinny' recipe
I wish that name was used because something could make us skinny. However, that would never happen with my luck.
There are a lot of 'skinny margarita' recipes out there and I am grateful for that. This is because the average margarita with sugar in it can have up the calories to around 500 or even more! Yikes! That would certainly send my blood sugar in a tailspin.
As I mentioned above, the basic margarita recipe has three ingredients.
We add lime and tequila (if making this with alcohol). The third ingredient, the mixer which usually comes with all of the sugar, will be substituted in this recipe. Because of this, I will be using a sugar free mixer as a result. Therefore, that sugar free mixer can be found on Amazon.
Thankfully, the sugar free mixer that I use has no sugar.
It also has no calories in it. I like that it tastes good without the sugar as well.
You can make this with no alcohol added. Also, you can make this on regular ice cubes or no ice cubes at all. Rather than adding sugar to something that I like to drink, I will consequently use an alternative.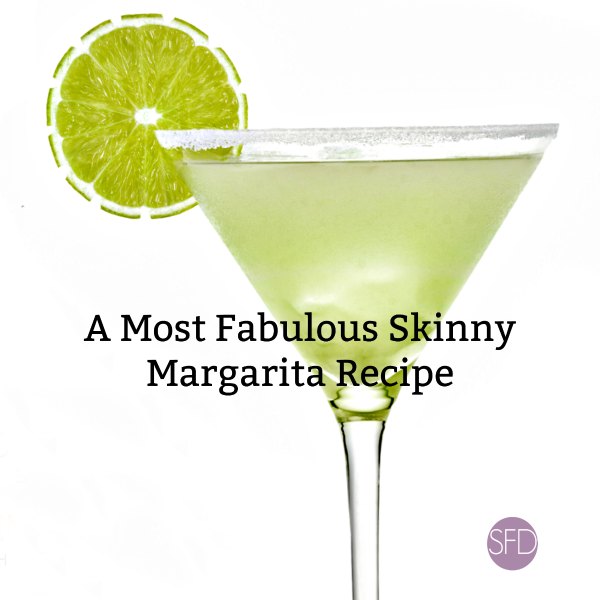 How to make A Most Fabulous Margarita Recipe
print recipe

The Frozen Skinny Margarita for Regular Gals
This is the 'skinny' margarita recipe for the 'regular' gal.
Ingredients
Lime- 1

Sugar Free Margarita Mixer- 1/4 cup-I like Baja Bob's Sugar Free

Tequila- 1 shot your preference, I'm using gold. Can make this with no added alcohol as well.

Cups Ice if making this frozen–2
Instructions
For the frozen version- I'm using a Ninja Blender in this recipe. You are fine using the blender of your choice as long as it can take ice. Omit this step if you are making this drink on the rocks or with no ice.
Slice your lime into quarters.
Squeeze out the juice of your lime by hand . You can squeeze the lime quarters and then twist them to get the remaining juice out.
Chop up one of the rinds to add to the mix.
Now you can Add your ice to the blender.If you are using a Ninja, I use the 48 ounce Multi-Serve container.
The next step is for you to add your remaining ingredients- including the chopped lime rind.individually.
On your Ninja, you can Press Auto-iQ BLEND (Ninja users).
Other blenders may vary, use the setting on yours that is for frozen beverages
The Ninja will stop when it thinks the beverage is ready. If you are using another brand blender, go by the specifications of that blender.
Optional- serve with one of your remaining lime rinds or a fresh slice.
Details
Consequently, and as a result: Prep time: Cook time: Total time: Yield: 1 serving
While you are here, you may enjoy these most noteworthy, especially relevant recipe ideas.
It seems like these could maybe be almost like this one.