When I first thought about buying one, I wish that someone would have told me How to Buy a Spiralizer
While they all may look alike, not all spiralizers are the same.
How to Buy a Spiralizer
I bought my first spiralizer because I wanted to make vegetables seem more appealing to my kids.
Serving my homegrown zucchini like it was spaghetti was a huge hit around here.
It was when I lent my spiralizer to someone who went on vacation with it that I missed it the most.
As a result of not having it around when I needed it, I was forced to look for a new one. Only this time, I knew more about what to look for.
While they may all look the same, no two spiralizers are the same.
Some are better than others, just like most any other kitchen gadget out there. I now know what to look for and How to Buy a Spiralizer.
Here are some recipes that you may can use a spiralizer with.
Keep up to date with my recipes
You can check out my guide on baking with sugar alternatives on Amazon

Be sure to follow me on facebook and subscribe to my recipes via email to keep up to date as well.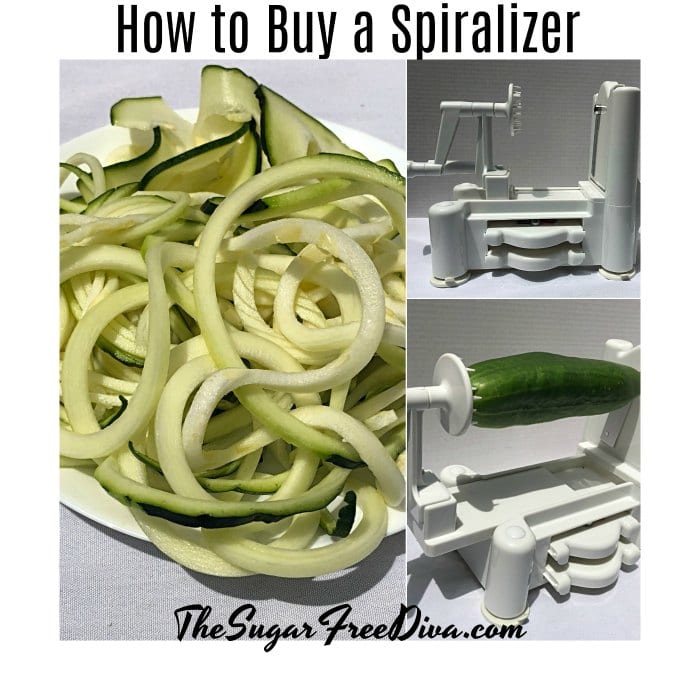 How to Buy a Spiralizer- the guide.
I have broken down my guide into the 10 things to look for when you look for your spiralizer. While some of these things may be less important than others to you, it may help to consider them just the same.
1. Easy to clean.
Nobody wants to spend an hour cleaning something. This is especially true about something that is meant to make tasks easier to do, such as slicing vegetables. Thus, if a sprializer is easy to take apart and clean, life just got easier for us all. Look for a spiralizer that is dishwasher safe.
2. Storage and space needed.
Holding on to original box is always a good idea. Being about to easily fit everything back into that box is even better. Storing that box on a shelf or drawer, makes this gadget worth while.
3. The number of blades.
I am also going to add the variety of those blades as well. Having one blade for slicing and one blade for creating spirals is nice. However, have a blade for thin spirals and slices and thicker ones too is even nicer. Also look at how safe the blades look as you do not want to get accidentally cut by one of them.
4. On board storage for blades.
I purchased my first spiralizer without on board storage. That became kind of a pain when I went to put the sprializer back into the box for storage. Nothing ever seems to fit right after being taken out of the box and used. My second sprialzier came with on board storage for the blades and thus, everything always fits back into the box.
5. Quality of gripping to the counter surface.
Albeit, this is not something you can always check when you purchase a spiralizer. However, it is important when you go to use it. The ability for your spiralizer to stay in place when you use it, rather than floating around on your counter, is important. Look for a handle or lever that can cause decent suction to stay in place. Also, a lever that makes it easy to remove the sprializer from the counter when you are finished using it.
6. Holding the vegetable in place.
I like my vegetables to stay in place when I am using my spiralizer. The easier the better as far as I am concerned. I look for pegs that are on both holders- the more the better too. These pegs will help hold the vegetable in place.
7. How easy is the sprializer to use anyway?
When you actually see someone spiraling away it looks easy enough. However, the correct blade had to get into place and as did the vegetable that is being worked on. I look for a blade that easily slips into place without me having to do anything more than just slipping into the slot.
8. Price
You can really get a decent spiralizer for under $30. That price makes it great for gift giving too. However, if you purchase something under $10, you will probably get what you paid for. Unless you need an electric spiralizer (arthritis etc?), I would not pay more than $30. That is why I wrote this guide How to Buy a Spiralizer.
9. What else does the spiralizer come with?
There are many spriralizers that come with cookbooks or other goodies. Sometimes that makes the deal even better. Other times, it is just lipstick. My point is that if the spiralizer comes with lots of cool blades and is easy to use too, if they are also throwing in a cookbook, it could be a bonus.

Read the Reviews too
I am always a proponent of reading reviews. I prefer to start with the negative reviews as they are usually more honest and less likely to have been done for a promotional purpose. Sometimes these reviews are silly- like the reviewer did not like the color of the spiralizer. However, look for red flags like when a lot of people state that the item broke easily or the spiralizer would not stick to the counter surface.
You can see this and the other items that have been featured on my Sugar Free Sunday Spotlight here.