Jump to Recipe
Prep Time
1
hour
20
minutes
Total Time
1
hour
30
minutes
Make this delicious crepe just like the ones we serve in our restaurtant.
Life seems pretty good now that I know How to Make Great Crepes.

How to Make Great Crepes
We serve a lot of crepes in our restaurant.
Our crepes taste really amazing.
I am always impressed with how good the crepes look as well.
We serve our crepes in many ways.
Plain crepes taste great however, with fruit  these also taste good.
We even serve them with chicken.
People sometimes ask what exactly is a crepe.
A crepe is kind of like a very thin pancake. The consistency is different because a pancake will a leavening agent such as baking powder added to it. A crepe is to a pancake what Matzo is to bread.
The proper spelling for it is actually "crêpe".

The little accent on top of the "e" is there because the crepe is a French pancake. We eat these because they are something different for breakfast.
What I like about crepes is that they are not a bunch of bread that fills me like pancakes do.

Crepes are thin and dainty when you compare them to their big brother the pancake. A plate of pancakes really is about the pancakes and getting filled up on the pancakes. A plate of crepes is as much about the crepe filling as it is about the crepe itself. I eat both crepes and pancakes despite the differences.
Making a crepe is kind of like making a pancake in many ways.
You can make a crepe similarly to how your would make a pancake. Both use all purpose flour (in most recipes). Both are paired with the same fruits and toppings as well.
The trick to making a good crepe is to cook it on the right heat.

Setting your stove heat to the right temperature is important. You should set it somewhere around medium high for a successful crepe. The heat should not be set too high as it will burn your crepe. When we set the heat too low, the crepe will most likely not cook evenly. You will be amazed at how easy these are to make.
Here is a great tip. You should refrigerate the batter for about an hour before actually using it.

The reasoning behind setting the crepe batter in the refrigerator is that the cooler air will get rid of many of the bubbles that are in the batter. When there are bubbles in crepe batter, there is a likelihood that the crepe can tear when you flip it over since the crepe is so thing. Thus, you will have a great looking meal when it is done.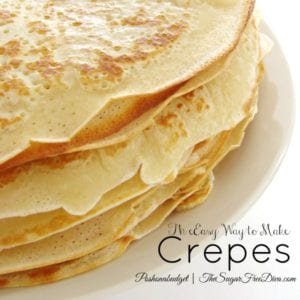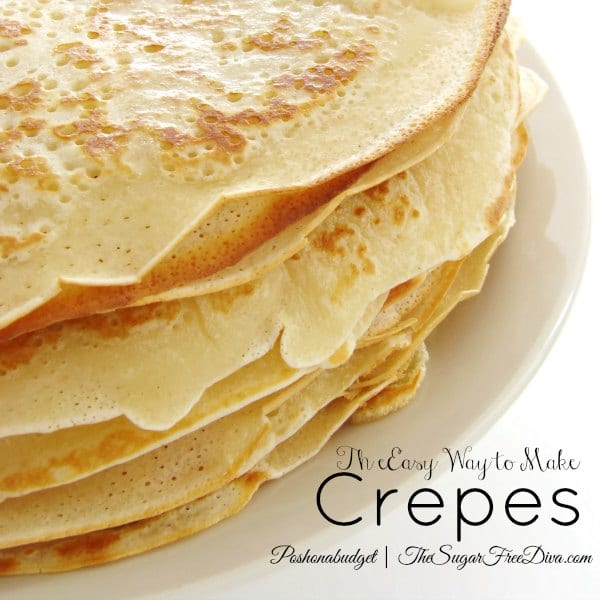 How to Make Crepes
Make this delicious crepe just like the ones we serve in our restaurtant.
Ingredients
Eggs- 2 large

Salt 1/4 tsp

Flour- 1 cup

AP, preferred

Whole milk- 1 1/4 cups. Whole milk is recommended because of it's consistency. I have used skim before.

Vanilla extract or fresh lemon juice

depending on the taste that you are looking for- 1 tsp

Melted butter- about 3 tablespoons divided
Instructions
In a mixing bowl- combine together the eggs, salt, flour, milk, and vanilla/lemon juice.

Stir in 2 tablespoons of the melted butter into the bowl.

Refrigerate for an hour to lessen the bubbles- this is optional- see above.

You will be making one crepe at a time so it is recommended to use a small-to medium sized round skillet.

Preheat the skillet on medium-high heat.

Once heated, add the remaining butter to the skillet.

When the butter bubbles, add about 1/4 cup of batter and swirl the batter around in the skillet until the skillet is covered. This should be a thin layer of batter.

As the crepe cooks, work the edges to loosen them.

When the crepe begins to brown- about 45 seconds, gently flip it over and cook the other side for about another 30 seconds until browning.

While the crepes are still warm, it is recommended that you do not stack them as they may stick together.
How do you enjoy your crepes?
You can serve these alone with a bit of butter and/or whipped creme. We also serve them with syrup or fruit. It is recommended, however, to make sure that you eat them while they are still warm.
https://thesugarfreediva.com/sugar-free-lemon-pancakes/