These are some really great Inexpensive Holiday Kitchen Ideas.
I like that they are all of a holiday theme as well.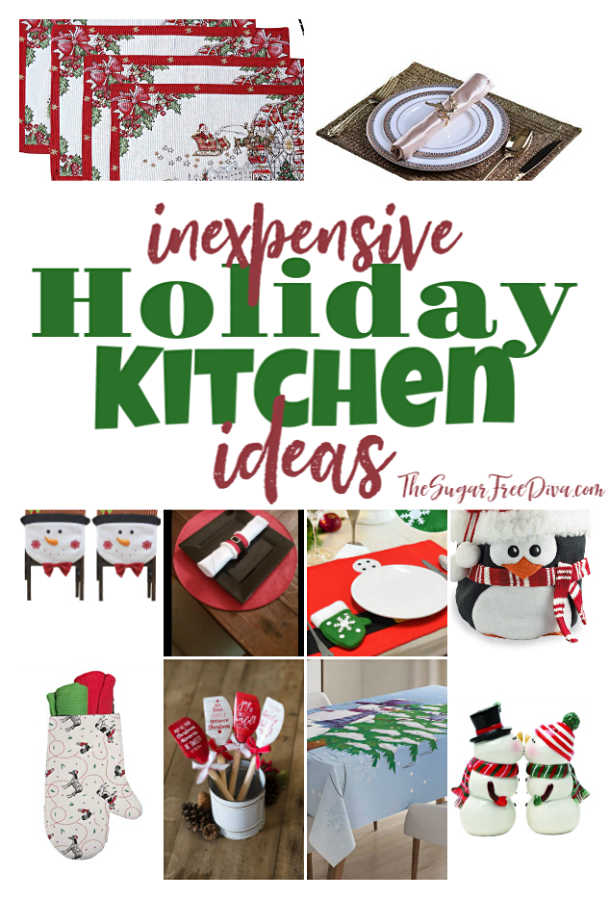 Inexpensive Holiday Kitchen Ideas

This is the perfect way to add a bit of 'festive' to your kitchen.
Just in time for the holiday season too!

These Inexpensive Holiday Kitchen Ideas make for great gifts as well.
I am giving a few of them away as hostess gifts when I go visiting.
And, don't forget about those teacher gifts!

Here are some similar ideas to these Inexpensive Holiday Kitchen Ideas that you may also like.
Keep up to date with my recipes
You can check out my guide on baking with sugar alternatives on Amazon

I have some great tips on which alternatives may work in a recipe such as this one.
Be sure to follow me on facebook and subscribe to my recipes via email to keep up to date as well.
Inexpensive Holiday Kitchen Ideas
I like that these are magnetic. That means that I have a better chance of keeping them together.
This comes in many designs.
These napkin rings are a bit fancier than the ones above.
This is a perfect gift idea! Think hostess gifts!
I must admit that I like the cute animals on this.
This is a really a fun looking place mat. I like the mitten idea on these.
These place mats are a bit more formal than the ones above.

There are many designs to choose from here. Also, several sizes too!
Aw...cute...right?
These are too cute!
Perfect for all kinds of doors!
Many designs available.