Low Carb Baking Essentials
Because, just because you are living low carb, you can still enjoy yummy food!


Low Carb Baking Essentials

It was the first time that I went on a low carb diet that I discovered many of these products.
I think that learning how to bake with low carbohydrate recipes and products is what go me through my low carb days.

It is true that low carb food is low in sugar or sugar free.
However, not all sugar free food is also low in carb. This means that you must read the label on your products before you use or eat them.

You will notice that the sugar alternatives are in granular form.
I am partial to the granular alternatives as they are most like sugar when it comes to balancing out the dry versus wet ingredients in a recipe. Also, if you are sensitive to sugar alternatives, please be careful with eating any of these. I only needed to learn that lesson once!

Here are some recipes that you may like to use these ingredients in.
Keep up to date with my recipes
You can check out my guide on baking with sugar alternatives on Amazon

I have some great tips on which alternatives may work in a recipes.
Be sure to follow me on facebook and subscribe to my recipes via email to keep up to date as well.
I use this all of the time. If you have been here before you probably have seen Carbalose Flour in my recipes.
This is the baking mix that contains Carbalose. Use it for biscuits, pancakes, and waffles etc.
Here is the nutritional information as well as some recipes.
Sweeteners.
Not all sugar alternatives are low in carbohydrates. Here are some sugar alternatives that are.
Splenda is probably the most affordable of the choices in the granular alternative category. Granular sugar alternatives are suggested a lot in my recipes as they are more like sugar when it comes to volume in a recipe. Also, this measures 1:1 in a recipe to sugar, making it easier to use.
This is another popular sweetener. It nets out to zero carbs.
The nutritional label.
Stevia
Stevia is a popular choice because it is 'natural'. However, Stevia is much sweeter than sugar and as a result, less of it is need in a recipe to attain the same sweetness as sugar. This can throw off the balance of ingredients in a recipe. Also, Stevia is pricier than the other alternatives. As a result of all of this, Stevia is usually blended with other ingredients in order to maintain the balance by making it 1:1 (or close to) sugar in a recipe. Here is an example.
This particular Stevia blend nets out to 0 carbs.
The reason why I am showing this bundle is because there are some useful products in it. Especially during the holiday baking season.
All three of these net out at zero or close to zero carbs.
I have provided individual links to each product above. Thus, giving you choices.
In so many of my recipes, especially frostings, I state that you can make your own sugar free powdered sugar using this recipe or you can buy sugar free powdered sugar already made online.
This nets out to zero carbs.
I use these all the time. Sometimes, I just grab a few when I am feeling some chocolate.

This nets out to 1 carb. Thus, it can be a good choice.

Lily's is a brand of chocolate chips that was recommended to me by some of my readers.
You can see items that have been featured on my Sugar Free Sunday Spotlight here.
Learn more about how to use sugar alternatives!

Check out my guide on baking with sugar alternatives on Amazon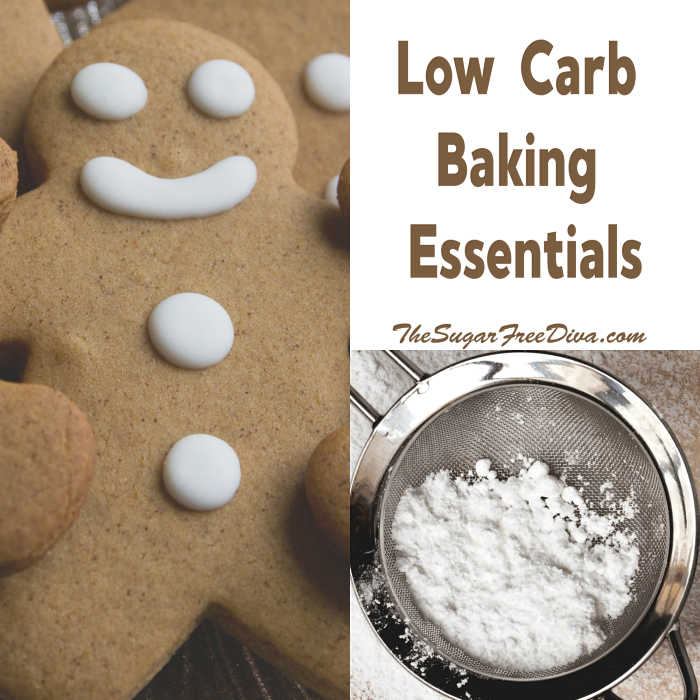 Sticking to a low sugar or sugar free diet can be a challenge.
I certainly all about that. However, after years of riding the sugar escalator, you know the ups and downs, I learned how to deal with it all. However, in my case it was learning how to control sugar rather than sugar controlling me.
Here are some of the great products that I enjoy in lieu of sugar such as these Low Carb Baking Essentials .
I am a chocolate addict. So instead of eating regular chocolate bars that contain sugar, I opt for sugar free chocolate bars such as this one. My readers have also suggested trying this chocolate bar- have you?