I am so thankful for Low Carb Pasta Choices!
That is because I do love pasta but, am not a fan of the carbs!


Low Carb Pasta Choices

This is for anyone who has ever thought they could not eat pasta because of the carbohydrates in it.
The truth is that you do have options for pasta!

I must admit that low carb pasta is a bit different from the regular stuff.
That is because the low carb pastas are usually made a bit different from the regular pastas out there. Also there may be a difference in how the pasta is prepared.
However, I have found that most of my favorite pasta recipes can be made in a lower carb version.
Just by substituting in the lower carbohydrate pasta into my recipes I have already gotten rid of most of the carbohydrates. We all know that regular pasta is loaded with carbohydrates after all.

Here are some low carb recipes that you may also like.
Keep up to date with my recipes
You can check out my guide on baking with sugar alternatives on Amazon

I have some great tips on which alternatives may work in a recipe such as this one.
Be sure to follow me on facebook and subscribe to my recipes via email to keep up to date as well.
Low Carb Pasta Choices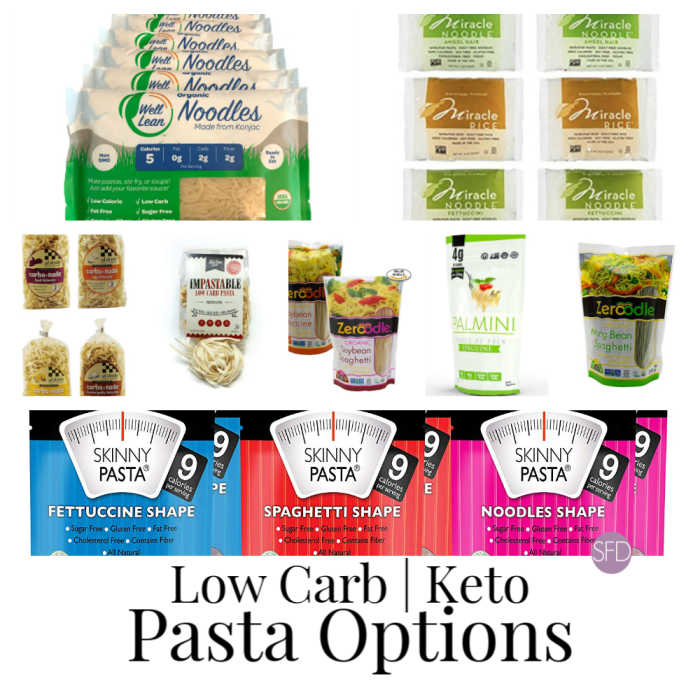 About the product
Contains 6 Bags: (2) Angel Hair, (2) Rice, (2) Fettuccini
Zero Guilt. No Carbs.
No Bloating. No Energy Crash. No Pasta Belly!
Soy Free, Gluten Free, Vegan
Easy quick preparation


Looking for a recipe that is not on my site?
Please let me know and I will will on getting that recipe for you.
Happy baking, eating, and enjoying life!
You can see items that have been featured on my Sugar Free Sunday Spotlight here.