You can make everyone happy with this Low Carb Pizza Casserole.
That is without even having to mention that it is low in carbohydrates.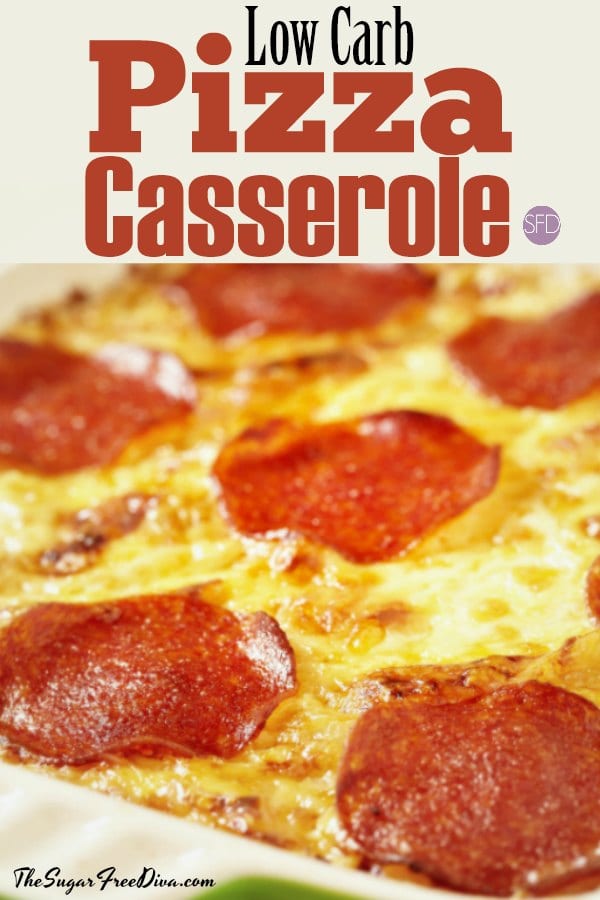 Low Carb Pizza Casserole

The perfect comfort meal that is sugar to please everyone.
You can even prepare this casserole in advance.

I like that this casserole is also the perfect meal to share with others.
During the time of the year when there are tailgates, parties, and similar gatherings, I am always looking for something good to bring. This recipe is perfect for those potlucks and get-togethers!

There are three options for making this recipe.
You can make this like a traditional casserole using low carb pasta that you can find here. Or, you can line the casserole dish with a low carb pizza crust which you can find here. However, you can omit both the pasta and the crust and simply go with the other ingredients.

Here are some similar recipes that you may also like.
Keep up to date with my recipes
You can check out my guide on baking with sugar alternatives on Amazon

I have some great tips on which alternatives may work in a recipe such as this one.
Be sure to follow me on facebook and subscribe to my recipes via email to keep up to date as well.
The recipe for Low Carb Pizza Casserole
What you will need to make this Low Carb Pizza Casserole.
If using pasta, 2 cups of prepared according to directions low carb pasta such as this. Or 1 premade low carb pizza crust such as one of these.
Make this with meat by using 1 pound of cooked meat such as sausage, pepperoni or a combination of the two. Vegetarian option would be to use vegetables instead (mushrooms, peppers, etc).
Pizza Sauce- 1 15-16 ounce can as low in carbs as possible. You can find a selection of lower carb pizza sauce here.
Shredded cheese- such as mozzarella or an Italian blend. 1 ½ cups. Find vegetarian cheese options here.
Optional- Italian Seasonings to taste, minced garlic (1-2 cloves), and/or chopped onion.
Optional- make this richer in taste by adding 1-2 tablespoons of cream, Greek Yogurt, or milk. This is not recommended if using a pizza crust however.
How to make Low Carb Pizza Casserole
Before you begin, decide if you will be using the pizza crust method. If so, then omit the pasta and the option of adding liquid dairy.
Preheat your oven to 350. Prep your casserole for nonstick as needed.
Prepare the pizza crust or pasta as directed if needed before you preheat your oven. If already prepared, press the pizza crust into the casserole For the pizza method, precook this crust for 8-10 minutes until the crust is somewhat baked.
In a medium bowl, stir together the pasta and the pizza sauce. Then stir in the meat and/or vegetables. Transfer this to the casserole and evenly distribute the contents. If using the pizza method, simply omit the pasta from this step. Also, you can add the optional ingredients at this point as well (seasonings, garlic, onion, and/or liquid dairy.
Next, top with your cheese and any additional pepperoni etc if desired.
Bake this for 18-29 minutes. Cheese should begin to brown and bubble when done. Allow this to sit a few minutes prior to serving.
The Recipe Card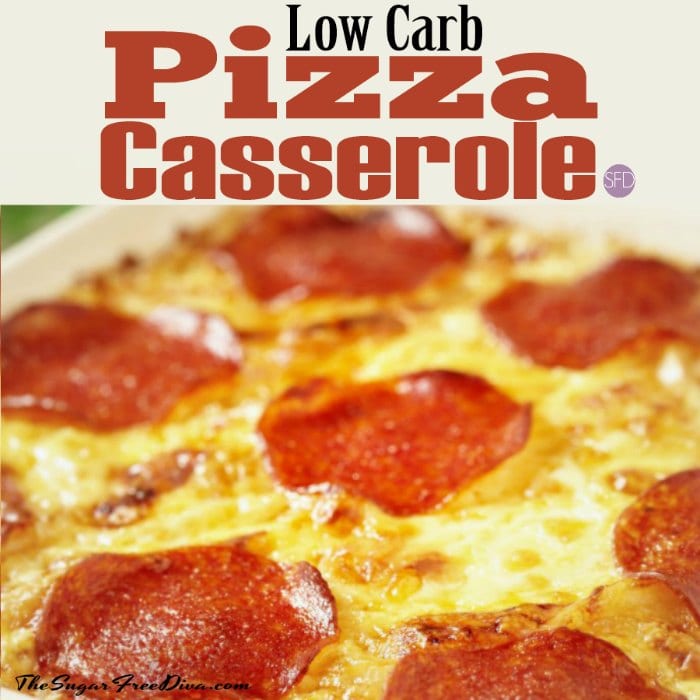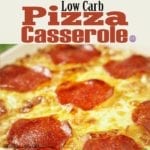 Print Recipe
Low Carb Pizza Casserole
This recipe for Low Carb Pizza Casserole smells as amazing as it tastes. For those of us following a low carb diet, this is the perfect meal.
Instructions
Preheat oven to 350. Prep casserole dish as desired.

In a bowl, combine together the sausage, pizza sauce and pasta. Also, any optional items.

Transfer this to the casserole and evenly distribute the contents. Top with your cheese and any additional pepperoni etc if desired

Bake this for 18-29 minutes.
Recipe Notes
Please see post for important details on this recipe.
There are a lot of great options and ingredient information listed.
*As an Amazon Associate I earn from qualifying purchases. This means that the links on this website, and specifically on this post, that lead to other sites may be affiliate links.
Nutrition
Calories:
282
kcal
|
Carbohydrates:
7
g
|
Protein:
16
g
|
Fat:
20
g
|
Saturated Fat:
7
g
|
Cholesterol:
57
mg
|
Sodium:
789
mg
|
Potassium:
352
mg
|
Fiber:
2
g
|
Sugar:
2
g
|
Vitamin A:
440
IU
|
Vitamin C:
4.4
mg
|
Calcium:
128
mg
|
Iron:
1.5
mg
Please note: Nutritional data has been calculated using a tool that comes with this recipe card and not by me. This means that Nutritional Information is only an estimate and can vary especially with ingredients that you use. The accuracy of this tool may differ from other tools as expected. Also note that there is no instructional value to the video that may be attached to this recipe. It is only there for visual pleasure. For more information about the images in this recipe, please refer the the recipe instructions. Thank you!
---
Follow Me
https://www.pinterest.com/thesugarfreediva/
https://www.facebook.com/thesugarfreediva/