I was tired of all of the sugar in store bought granola so I started to make my own Low Sugar Homemade Granola
The truth is that is not that hard to do!

Low Sugar Homemade Granola
There really is a lot that I can do with some granola.
Besides eating it alone as a snack, I love to use it in other recipes. I also like to top my yogurt and smoothies with low sugar homemade granola.
Making your own granola means that you can use the ingredients that you want to use.
I like to use the nuts that I like and in the quantities that I like to add them in. I am also a bit picky about the dried fruit that goes into my granola.
The only sugar that is added to this recipe is the sugar that comes from natural ingredients that are used in the recipe.
By 'natural' ingredients I mean dried fruit and honey. Hence, I do not add any other sugar to my granola.
A basic granola has four basic groups of ingredients.
You need some kind of a grain such as rolled oats. Then there are the nuts and fruit that are needed as well. Finally, we add something sweet, such as honey, to balance out the different tastes.
Grains:Rolled oats or Wheat Germ (which can be hard to find in the stores ironically)
Dried fruit- raisins, cranberries, or bananas.
Nuts such as Almonds Cashews, Sunflower Seeds or Walnuts
Sweet- Maple Syrup or Sugar Free Syrup- as close to maple as possible, Honey or Sugar Free Honey, Coconut Palm Sugar
You can find Coconut Palm Sugar , Sugar Free Honey, and Wheat Germ all on Amazon.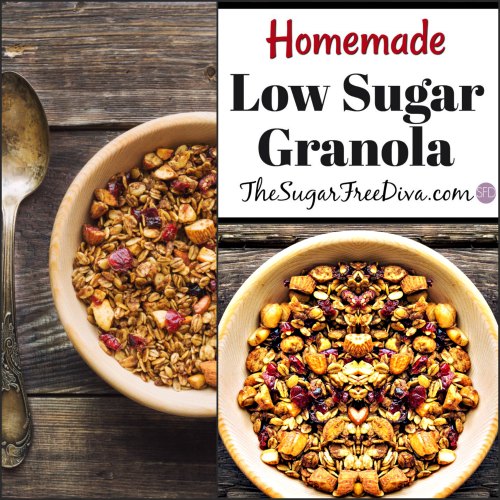 How to make sugar free granola
I love that I can make a large amount of this granola and store it away for later use. Granola makes for such a great snack or topping.
print recipe

Low Sugar Homemade Granola
My problem with store bought granola is that it often has sugar added to it. I don't even know why they add sugar to granola since it is so good the way the way that it is naturally.
I like to make my own granola because it allows me to have control of what goes into it.
Ingredients
Rolled Oats and/or other grain- 5 Cups total

Nuts, 3 cups total- Almonds – slivered or chopped, Chopped Walnuts , Sunflower Seeds, and/or Cashews- note: can use one or more than one as long as total is 3 cups.

Coconut Palm Sugar-1/2 Cup

Sugar Free Syrup- maple preferred–1/2 Cup

Coconut Oil- 1/2 Cup Oil

Salt-1 Teaspoon

Sugar Free or regular Honey-1/2 Cup
Instructions
* As long as your nuts add up to 3 cups in total, it is not as big of a deal which ones you used as you can use what you want and prefer. 3 Cups total of all nuts.
Preheat your oven to 325 and line your baking sheets with parchment paper.
In a microwavable bowl or using a sauce pan on the stove, combine your syrup, honey, salt, oil, and coconut palm sugar. Bring to a boil stirring as needed.
While your other ingredients are heating up, combine the nuts and oats (or grain) in a large mixing bowl.
When the liquid has started to boil remove from stove/microwave. This will be warm or hot to take precautions here. Pour your warmed ingredients over the nuts, mixing with a spoon as you pour. It is best to pour a bit of the liquid over the bowl, stir and then repeat until all is distributed.
When the nuts and grains are well covered, transfer the granola on to the parchment paper lined baking pans.
Add the fruit and then spread the mix evenly over the baking pan.
Bake for 18-20 minutes, stirring several times throughout the baking.
Details
Prep time: Cook time: Total time: Yield: 8-10 servings
https://thesugarfreediva.com/no-sugar-added-blueberry-scone-recipe/