Blueberry season is a good time of the year to make a No Sugar Added Blueberry Scone Recipe.
In this recipe, the sugar contained in the scones comes from the blueberries and not from added sugar.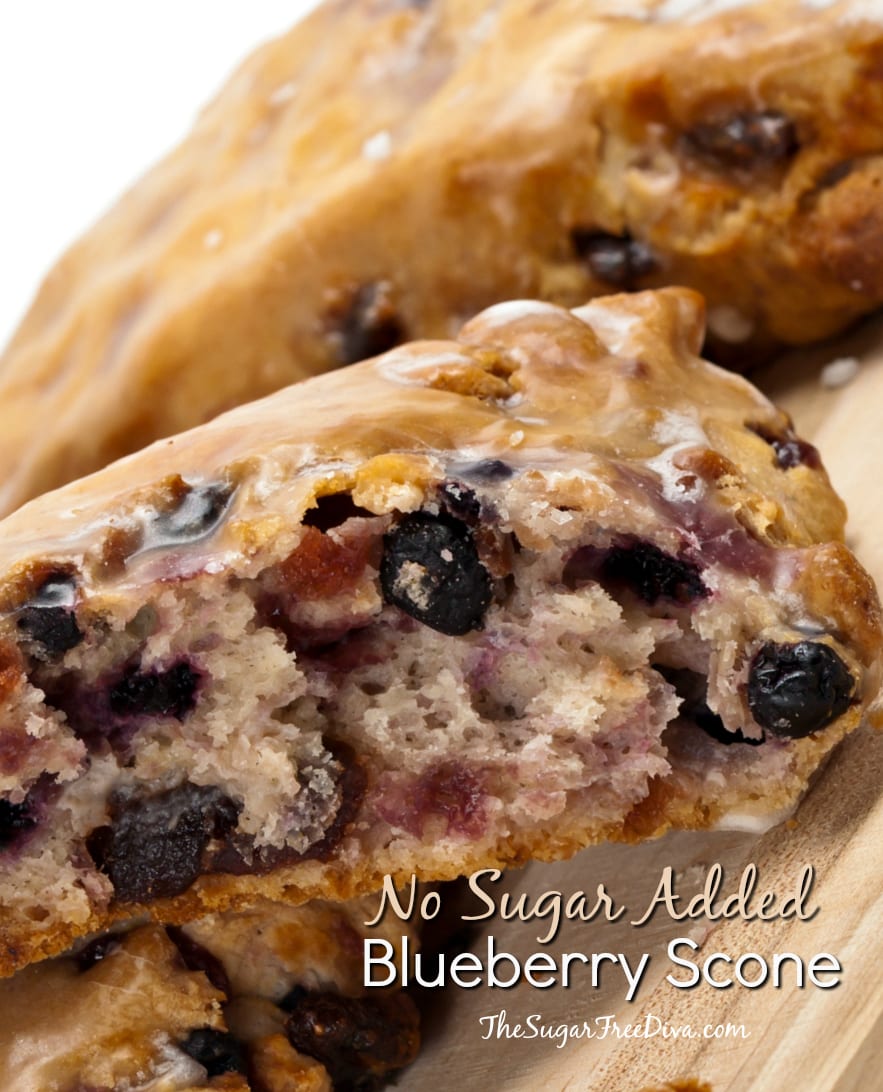 No Sugar Added Blueberry Scone Recipe
Before we know it, there will be an abundance of fresh blueberries showing up at out local grocery stores and farmers markets.
Blueberries are a delicious fruit that we seem to see a lot of in recipes for baked goods.
Because blueberries already come with around 15 grams of sugar on their own, I would rather not add any more sugar to my recipe for scones.
Scones really are not muffins, as they are often compared to.
Scones are really more like a biscuit in many ways because of how they are made. While a muffin recipe may call for a lined or prepped baking cup, a scone can simply bake on a pan.
Scones often come with a sugar glaze on top.
The sugar glaze will give a sweet touch to what can be a normally boring and dry taste of a scone. However, that dry and boring taste is often perfect when enjoying scones with an afternoon tea.
Using blueberries in a scone recipe is another way to make a scone less boring.
Blueberries come with their own sweet taste that is the perfect complement to the scone. Blueberries also add a bit of color to the scone.
Scones are tasty just about any way that they are served.
Warm scones for breakfast can please a crowd. Cool scones served with afternoon tea is a good way to serve them as well.

The recipe for No Sugar Added Blueberry Scones
No Sugar Added Blueberry Scone Recipe
A no added sugar recipe for blueberry scones.
Servings
:
10
-12 depending on size
Ingredients
Flour

ap- 2 3/4 cup

Sugar Alternative- 1/3 equivalent

Salt- 1 teaspoon

Baking Powder- 1 tablespoon

Butter- 1 stick cut into tablespoons

Greek Yogurt- 3/4 Cup

no sugar added is desirable

Eggs- 2 beaten

Blueberries- 1 1/2 cup
Instructions
Preheat oven to 400 and prep baking pans for nonstick- I use parchment or silicon mats.

In a medium bowl, combine the beaten eggs and Greek Yogurt. Set this bowl aside.

In a large mixing bowl, combine together the flour, sugar alternative, salt, and baking powder.

Cut the butter into the dry ingredients.

Mix in the eggs and yogurt to the mixing bowl with the dry ingredients.

Fold in the blueberries.

Roll the dough onto a flowered surface until it forms a ball. Cut into shapes, one large circle to make wedges or cookie cutter cutting rolled out dough.

Bake for 15-18 minutes or until browned.
Recipe Notes
Optional- Use my glaze recipe to glaze this if desired.
Also, look for the lowest sugar if not sugar free Yogurt for this recipe.
When do you eat scones?
Breakfast time is a great time to serve fresh scones. Afternoon tea is a very popular time to enjoy scones as well. Serve scones with tea, coffee, milk, or lemonade as well.