I love Sugar Free Baking With Chocolate!
Also, I like that there are plenty of great ways to do so!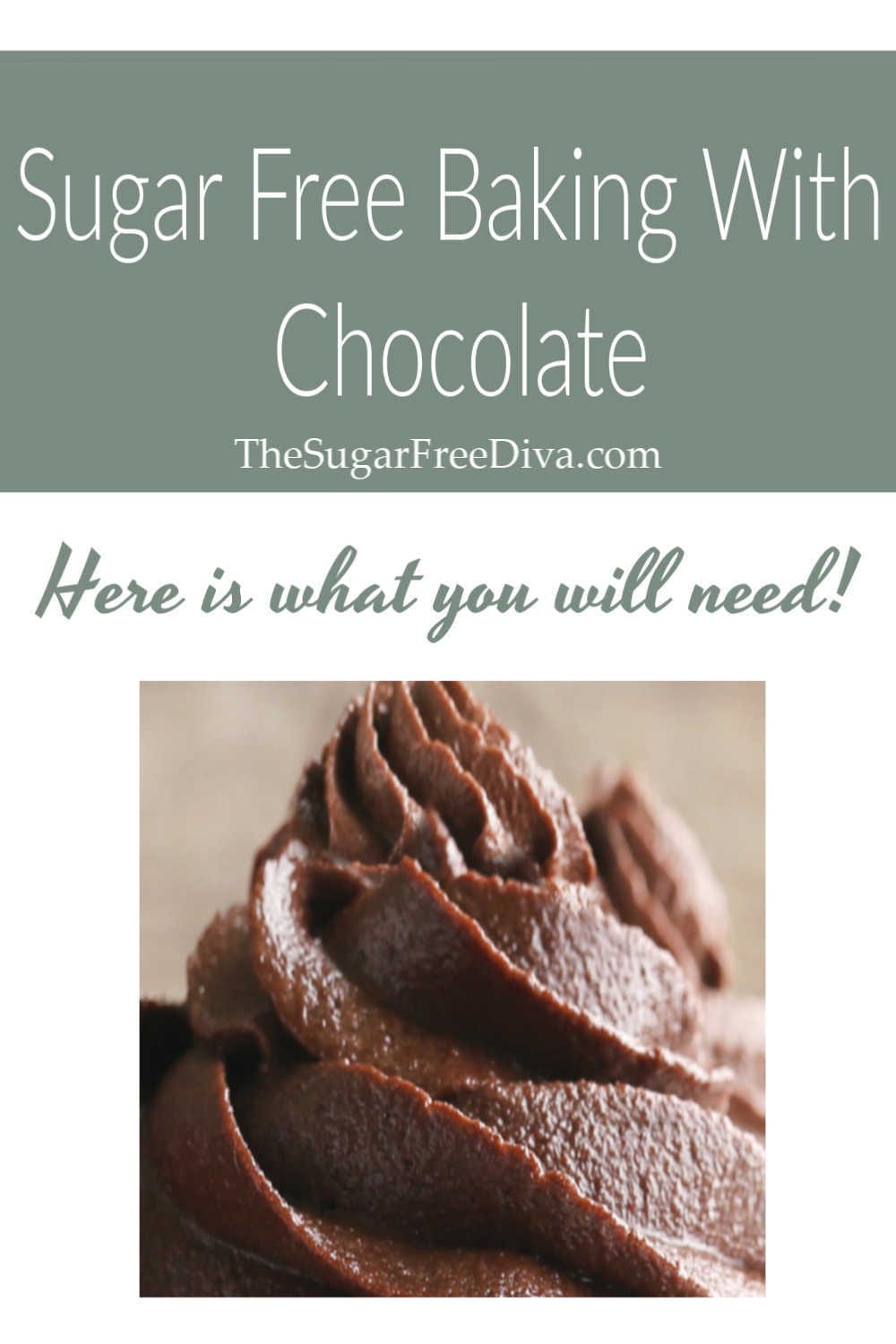 Sugar Free Baking With Chocolate

If you have ever wanted to bake something chocolate without the sugar then you probably also know the struggle.
That struggle would be finding baking chocolate or chocolate chips that do not have sugar added to them.

But, luckily, there are ways to bake with chocolate without adding a bunch of sugar.
We certainly have come along way with that if you ask me.
I know because I have been baking sugar free for as long as I can remember,

I am going to show you some great products that will help you with your baking.
These products are all common products that are chocolate as well.
What they all have in common is that there is no added sugar in any of these products.

Here are some similar ideas that you may also like.
Keep up to date with my recipes
You can check out my guide on baking with sugar alternatives on Amazon

I have some great tips on which alternatives may work in a recipe that you are working on.
Be sure to follow me on facebook and subscribe to my recipes via email to keep up to date as well.
Sugar Free Baking With Chocolate
Here is what you may need!
This is something that you may need to bake both sugared and sugar free recipes. You will have to sweeten whatever you are making with some kind of a sugar alternative as this is 100% chocolate and nothing else!
These are the chips version of the baking bar above. To be honest, I had no idea that these even existed until I started researching for this article. However, these chips would probably be amazing when you are wanting to melt some 100% chocolate for a fondue or similar goodie.
Lily's Chocolate is a brand that my readers keep asking me about. It is good stuff at that!
This has been sweetened with Stevia and erythritol and is nearly all chocolate. I'm not sure that anyone else even sells this in dark chocolate.
This is similar to the above product but, in more of a milk chocolate form.
Use these chips in your cookies, pancakes, etc.
These chips have more chocolate in them than a milk chocolate chip product yet, with some sweetener too.
At the risk of dating myself, and I know that I totally am, I remember the days when if you wanted sugar free chocolate, carob was pretty much your only choice. So, I have been down that carob path before. I will say that carob is generally pet friendly which is why I may take a chance on these (5 dogs in my pack). Please check with your vet before using these please.
Never heard of Cacao Nibs before? This is the hardcore chocolate stuff.
I have a book about sugar free chocolate coming out soon. Cacao Nibs are certainly a big deal in that book.
Here is why. In the process of making chocolate so that we can bake with or eat it, Cacao Nibs are the raw material that are used to make both cocoa powder and dark chocolate. Thus, Cacao Nibs are a great source of flavanols.
Here is an alternative way to get your carob in.
I have used these chocolate chips in the past. These chocolate chips are mini in size. Thus, these chips work well with ice cream, cookies, pancakes, and so much more!!
I get a lot of people asking me if they can use a Dutch Chocolate when they are making one of my recipes. Dutch Chocolate is different from regular unsweetened chocolate. This has been prepared with an alkali which means that it has a more mild taste.
This is probably in every kitchen cupboard in the country. You probably are checking yours right now!
Anyway, this stuff is fantastic when it comes to chocolate AND it has no sugar added to it. Yay!
You can see items that have been featured on my Sugar Free Sunday Spotlight here.