Fining barbecue sauce that does not have sugar in it can be a tough task
That is why I gave up looking for sugar free barbecue sauce and just started to make my own.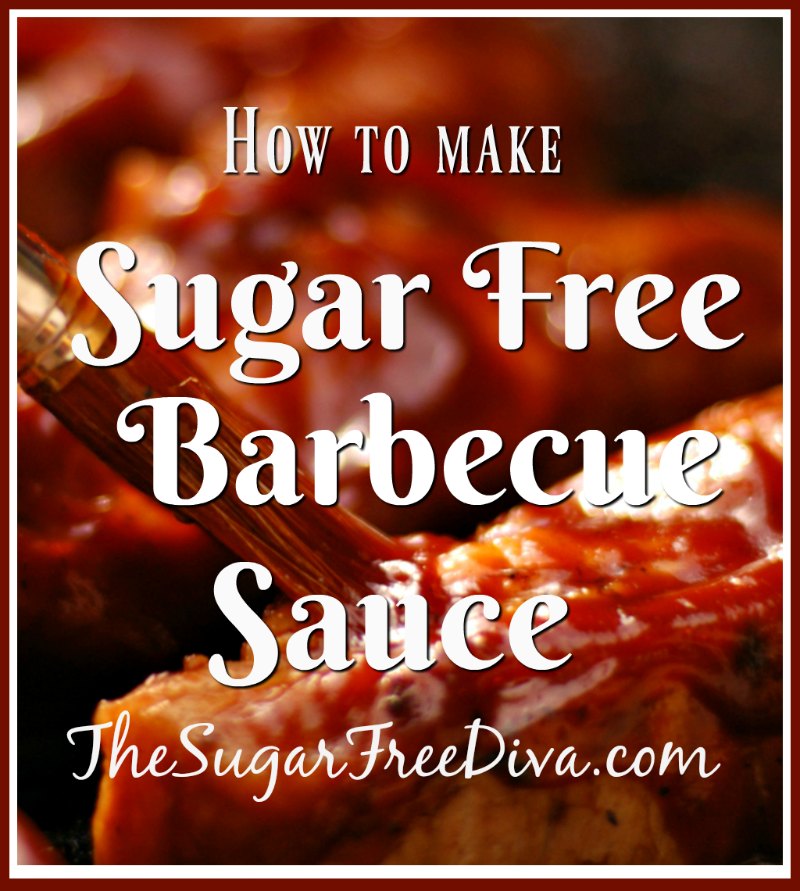 Sugar Free Barbecue Sauce" width="800" height="891" />
How to Make Sugar Free Barbecue Sauce
The other day, while at the grocery store, I read the label on a bottle of barbecue sauce looking for the sugar content that was in the sauce.
I was checking the barbecue sauce aisle to see if there were any barbecue sauces with low or no sugar in them. The label on the sauce that I was reading showed that there were six grams of sugar in a serving of the barbecue sauce that was in the bottle. A serving of the sauce is measured at one tablespoon.
Carbohydrate counting tells us that sugar can be the mother of all carbs. That six grams of sugar in the bottle of barbecue sauce at the grocery store adds about seven carbs per serving in that barbecue sauce. When trying to maintain a 20-30 carb per day diet, seven carbs is a big chunk of what is allowed. Carbohydrate counters can certainly find better ways to consume seven carbs...
It can be a challenge to get through barbecue season without some kind of a barbecue sauce.
When cooking we can find many ways to use barbecue sauce. Barbecue sauce just seems to add that flair to some things that you cannot get with other products.
It is true that you probably need some kind of a sweet taste in a sauce that will be used in a barbecue meal.
Barbecue sauce is just something that we are use to enjoying when we barbecue this time of the year. When you are avoiding sugar as that sweet taste, you look for alternatives for sugar.
I use sugar 'equivalent' in this recipe.
Not all sugar 'equivalents' are usable in a 1:1 ratio as sugar. That is why I suggest reading the label on any sugar equivalent. The label should specify the ratio of that product to sugar for substitution purposes.

A low to no sugar alternative for barbecue sauce.
Ingredients
Olive Oil- 1 tablespoon
Chopped or Minced Onion- 1/2 cup
Chopped or minced Garlic- 2 cloves
Bouillon Cubes- 2 dissolved in 1/2 cup of water
Tomato Paste - 3 (6) ounce cans
Sugar Alternative- 2 tablespoons equivalent to sugar, can use a brown sugar alternative such as coconut palm sugar.
Cider Vinegar- 1 1/2 tablespoons
Mustard- 1 1/2 tablespoons yellow or brown.
Garlic Powder- 3/4 teaspoon
Onion Powder- 3/4 teaspoon
Liquid Smoke- 1 tsp
Optional--may contain sugar-- Tabasco or similar- 1 tablespoon, Molasses- 1 tablespoon, Paprika and/or chili powder 1-2 tsps to taste
Instructions
In a saucepan over medium heat, saute the onion and garlic in the olive oil for 4-5 minutes or until the onion becomes translucent.
While your onion and garlic are cooking, in a large mixing bowl, combine the remaining ingredients EXCEPT for the dissolved bullion in water. Set aside.
Add the bullion in water to the saucepan and bring to a boil stirring as needed.
One the saucepan comes to a boil reduce the heat and add the remaining ingredients. Bring this to a simmer and cook for 25-30 minutes stirring often.
This will keep in a refrigerator for about a week.
Notes
Please read the labels on your ingredients to insure that they have the lowest amount of added sugar, if any.
https://thesugarfreediva.com/sugar-free-barbecue-sauce-2/
Recipe courtesy of TheSugarFreeDiva.com
What do you like to put barbecue sauce on?