You are probably wondering about whether or not Cajun style grilled shrimp actually has sugar in it.
Many Cajun recipes indeed do have some sugar in them- whether it be in the sauce or something else that has been added to the recipe.
Sugar Free Cajun Styled Grilled Shrimp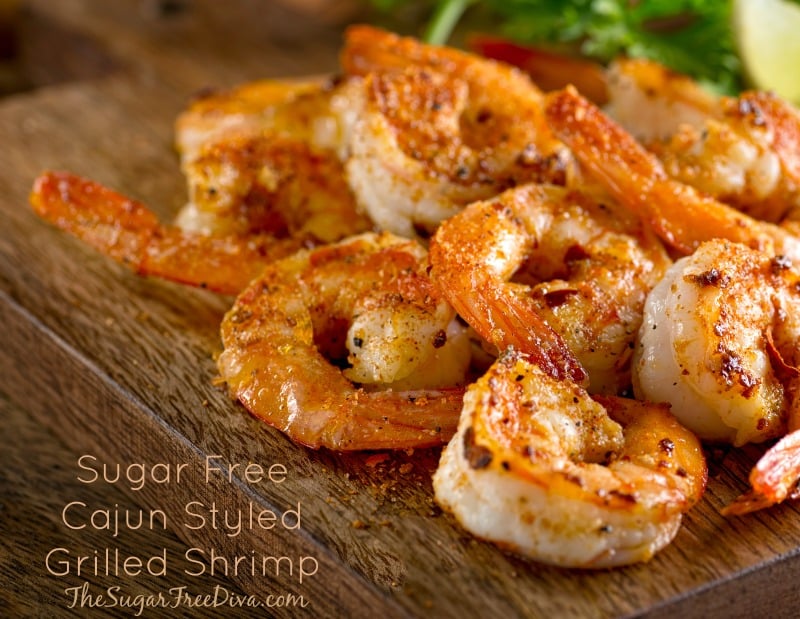 I was never a big fan of Cajun until I had a friend who wrote a Cajun cookbook.
The truth is, that living in Illinois, I never really had any reason to have been exposed to Cajun anything. I did visit New Orleans once but, all I really got out of the trip was a tasting for Beignets and memories from the French Quarter.
Knowing someone who is a professional chef, as well as a native of Cajun country really changed things for me.
My friend introduced me to the world of Louisiana style food and cooking. I also got a nifty Cajun cookbook signed by the author. It certainly was a tasty awakening for me.
Believe it or not, sugar can be present in many Cajun dishes. Cajun style grilled shrimp is certainly no exception.
A lot of really tasty Cajun style food really can contain some kind of sugar in it.
That sugar may come in the form of raw every day sugar. That sugar can also come in the form of honey, molasses, or even syrup.
Yet, us sugar free people really want to have our Cajun style food too. So, we must find a work-around to the sugar that may be in our food.
Cajun style food is a product of the French immigrants that settled in Louisiana
While there may be some 'Creole' influence to this, the two styles of cooking are different. When people think of 'Cajun Style' they often think of robust flavoring or spicy food. There is some argument as to the authenticity of robust spices in Cajun style food, however, I am not claiming to be authentic in this recipe. I am just offering a sugar free version of a Cajun style recipe for shrimp.
Cajun style shrimp recipe that has no added sugar. Easy to make on any kind of grill.
Ingredients
Large Shrimp- 1 lb- thawed, cleaned with tail
Olive Oil- 1/4 Cup
Garlic- 2 cloves minced
Sugar Free Syrup- 1 tablespoon
Soy Sauce - 1/2 tablespoon
Paprika- 2 teaspoons
Chili Powder- 1 teaspoon
Pepper- 2 teaspoons
Salt- 1 teaspoon
Oregano- 1 teaspoon
Instructions
In a zip top bag, combine everything EXCEPT for the shrimp. Seal the bag and mix well.
Open the bag and add the shrimp. Close the bag and again, mix well.
This bag of shrimp in marinade should sit for at least 30 minutes in the fridge. Even better, let it marinate over night- up to a full day.
When ready to barbecue, either use a skewer or special grilling basket.
Heat the grill to a medium temperature.
Cook shrimp for 3-4 minutes on each side or until opaque.
Notes
Make sure that soy sauce has no added sugar- most do not. Add additional seasonings- chili powder/paprika- or a teaspoon of hot sauce for an extra kick
https://thesugarfreediva.com/sugar-free-cajun-styled-grilled-shrimp/
Recipe courtesy of TheSugarFreeDiva.com
In the recipe I mention that you could use a grilling basket. You can find grilling baskets on Amazon.