One of the best ways that I know to top a cupcake is to use Sugar Free Cocoa Icing Made With Greek Yogurt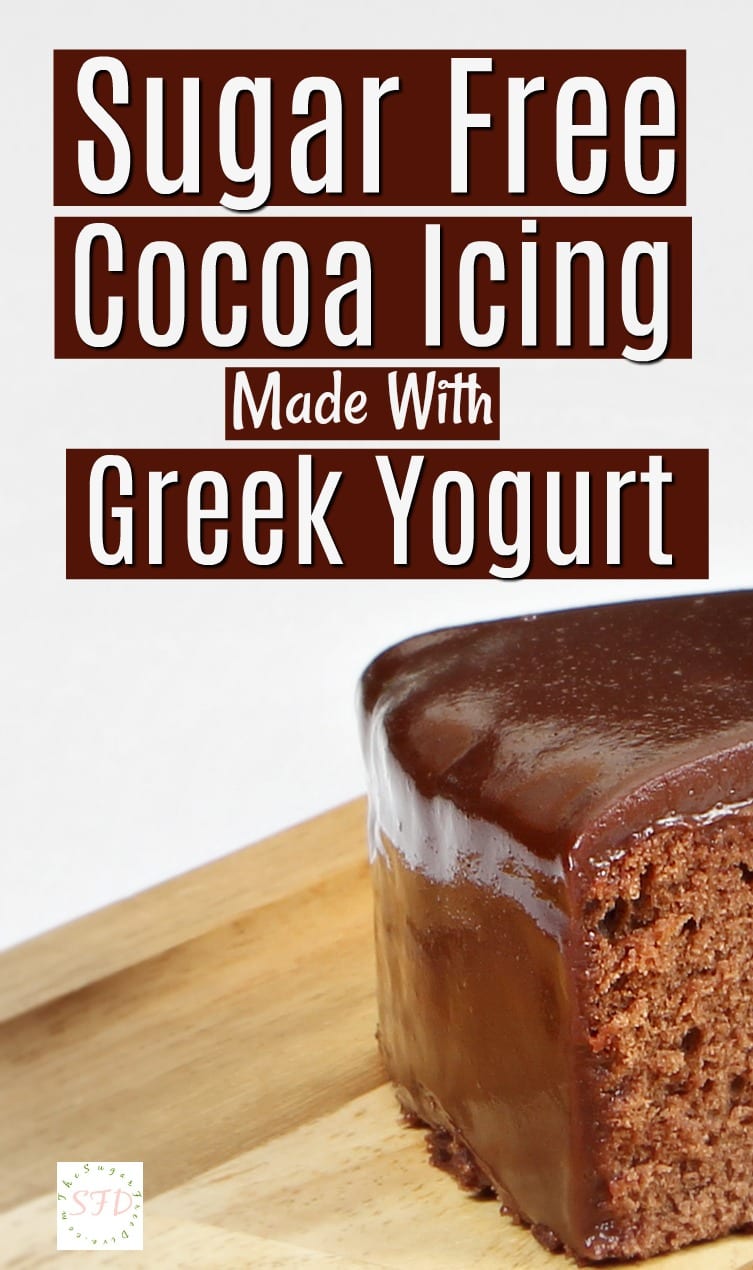 Sugar Free Cocoa Icing Made With Greek Yogurt
We love baking in our house.
However, we do not love adding sugar to everything that we bake. Thus, we look for sugar alternative ways to make our favorite baked items.
There are a lot of cakes and cupcakes out there that, in my opinion, get somewhat sabotaged by too much sugar added to the frosting.
By the time that I get through the frosting and hit the cake, I'm in a sugar over-load. Not only am I in a sugar over-load, I have little love for the cake that the frosting is covering. I think that is why there are people who just lick off or eat up the frosting and leave the cake sitting alone on a plate.
This recipe is based upon the regular full-sugar recipe that also contains sour cream.
I prefer to use Greek Yogurt in place of sour cream whenever I can. This is because I always have Greek Yogurt in my fridge. I rarely have sour cream, thus I use the yogurt. There is a lot that I can do, and do do. with Greek Yogurt besides enjoying it with fruit and oatmeal for breakfast.
The ingredients
I'm using sugar free chocolate chips to make this
I have used cocoa in the past to make my sugar free chocolate buttercream frosting . This frosting will have more of a "chocolate" taste rather than a cocoa taste like the butter cream one has to it.
Sugar free chocolate chips can be easily found online.
I find them on Amazon all the time. There are a lot of choices there.
I am also using Splenda for this recipe.
You can use Splenda or the sugar alternative of your choice. However, be aware of the equivalent that is needed to the amount in the recipe as this may be different with your choice of sweetener.
The Recipe
print recipe
Sugar Free Cocoa Icing Made With Greek Yogurt
An easy chocolate frosting that is made with Greek Yogurt
Ingredients
1 cup Greek Yogurt

1 1/4 cup Sugar Free Chocolate Chips

2 tablespoons, softened Butter

1/2 tsp Vanilla Extract

1/2 cup Sugar alternative such as Splenda
Instructions
In a medium mixing bowl, mix together your yogurt, vanilla and sugar alternative until blended.
In a microwave-safe bowl, melt your butter and chocolate in the microwave. Start with one minute, stir, and the microwave for 30 seconds stirring between until your chocolate is melted,
Be careful as your bowl may be hot. Pour your melted chocolate into the yogurt mixture. Stir until well blended.
Allow to chill for at least an hour before using.
Details
Prep time: Cook time: Total time: Yield: 10-12
Read these recipes. You will like them too!