People keep asking me if I know where to get some Sugar Free Easter Candy
Luckily, I do know where to get some Sugar Free Easter Candy.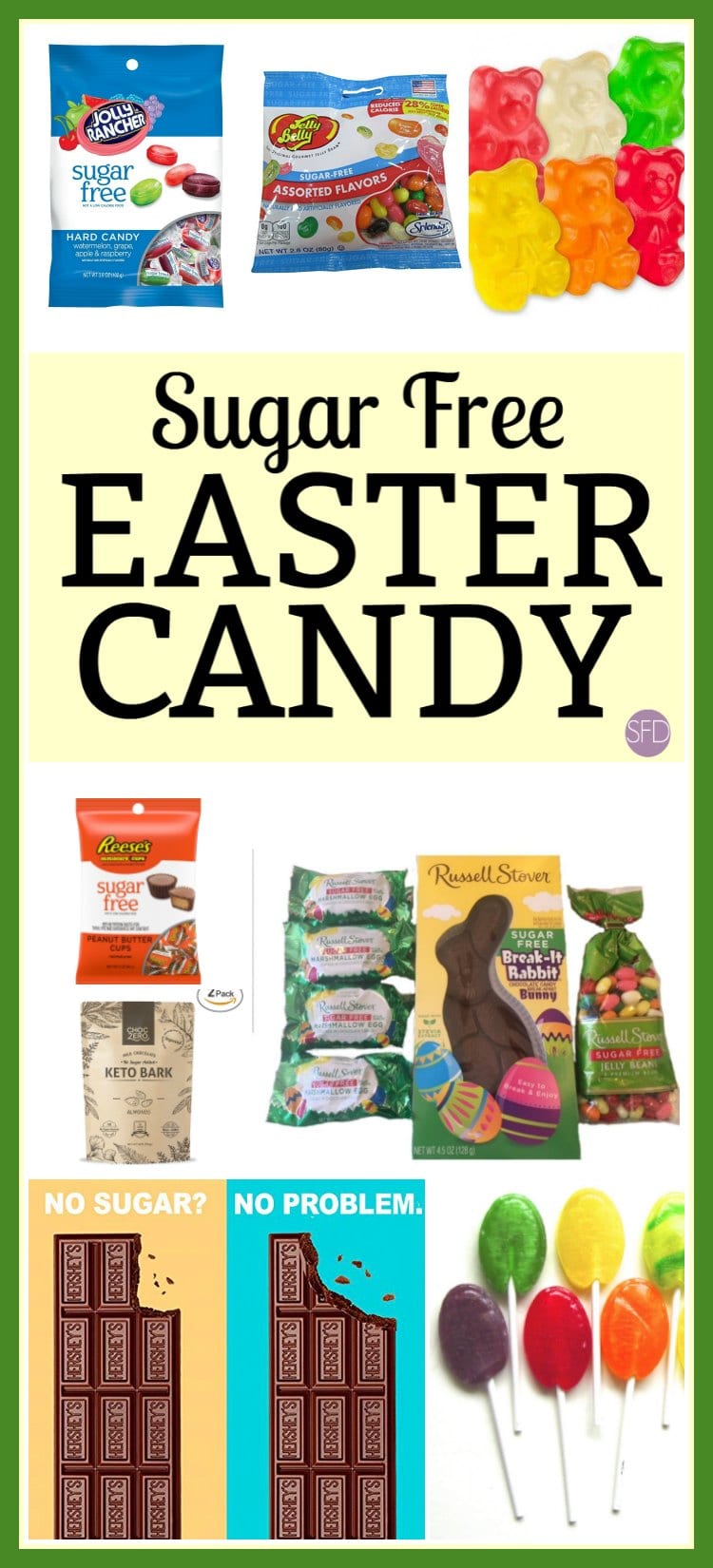 Sugar Free Easter Candy
Because, I also know what it is like to look all over for the perfect Easter candy.
However, fining the perfect candy, that also has no added sugar, can be a tough thing to do. But, if you look hard enough, you may find what you like.
Sugar Free Easter Candy Gluten Free Peeps Vanilla Creme Flavored
You probably already know about this candy 🙂
Jelly Belly Sugar Free Jelly Beans, Assorted Flavors
About the product
Case of 12 2.8-ounce assorted sugar-free jelly bean flavors (33.6 total ounces)
Zero grams of fat; contains no gelatin, milk, eggs or any other dairy products
Sugar-free, certified Kosher, gluten-free and vegetarian
40 percent calories less than regular Jelly Belly beans
Made in the U.S.
You can check out my guide on baking with sugar alternatives on Amazon
I have some great tips on which alternatives may work in recipes that you like..

Be sure to follow me on facebook and subscribe to my recipes via email to keep up to date as well.
Sugar Free Bulk Hard Candy | Cherry, Lime, Lemon, Tangerine, Watermelon | 5 Pound Bag
About the product
GoLightly Sugar Free Bulk Hard Candy | Cherry, Lime, Lemon, Tangerine, Watermelon | 5 Pound Bag of Bulk Candy
Great for low carb, low sugar diets
No Aspartame, Saccharin, or Acesulfame-K
Approximately 600 pieces of sugar free candy per bulk bag
Made in the USA
DiabeticFriendly Sugar Free Assorted Fruit Lollipops
About the product
This top selling sugar free lollipops, awesome flavors!
ZERO net carbs, ZERO Fat, ZERO Sodium!
diabetic friendly, gluten free
Fights Dry Mouth, Helps with oral fixations issue, ie smoking alternative
Isomalt and sucralose sweetened
ChocZero 70% Dark Chocolate, Sugar free, Low Carb, No Sugar Alcohol, No Artificial Sweetener, All Natural, Non-GMO
About the product
Fair-trade premium cocoa beans, delicious taste!

Sugar free, no sugar alcohols, and no artificial sweeteners. Sweetened with our exclusive monk fruit and fiber blend.
Low carb: only 1g net carbs per serving! Perfect for keto lifestyle and other low carb diets.
Antioxidant-rich, teeth-friendly, and good for your waistline!
All natural, non-GMO, gluten free. Made proudly in the USA.
Simply Lite Low Carb Dark Chocolate with Almonds
About the product
A pack of nine, 3-Ounce (total of 18-Ounces)
Smooth and silky meets crunchy dark chocolate
Unbelievable and with almonds, no less
Low carb, no sugar added and no trans fat.
Sugar Free Gummi Bears
Product description
These fruity traditional gummi bears are perfect for anyone who is sugar conscious but also loves these juicy candies! Now you don't have to worry or have that nagging regret about eating your favorite candy! Indulge yourself in these enjoyable, chewy gummies! So if you are trying to limit your sugar consumption without losing the taste of wonderful sweetness, then these are perfect for you!
Sugar Free Sours Jelly Beans
About the product
1 Pound of Sours Sugar Free Jelly Beans Not Individually Wrapped
Delivered in CandyOut Sealed Resealable Bag With Ingredients and Expiration Label
Approximately 395 Pieces of Sugar Free Sours Jelly Beans in 1lb With Sugar Free Printed on Each bean
Product of USA - Gluten Free - Fat Free
This Candy is perfect for anyone who needs a sugar free alternative for the classic favorite. WARNING: Consumption may cause stomach discomfort and/or a laxative effect. Individual tolerance will vary; we suggest starting with 8 beans or less.
About the product
The classic taste of REESE'S Peanut Butter Cups, with no sugar and 20 percent fewer calories
Creamy peanut butter and rich milk chocolate in a perfectly sized, sugar free candy
Individually wrapped in orange foils
A kosher and gluten-free peanut butter candy
Hershey's Sugar Free Milk Chocolate And Caramel Filled Chocolate Assortment Bag
About the product
Indulge chocolate and caramel cravings any time with this pack of sugar-free snack-size bars.
Enjoy the taste of HERSHEY'S original chocolate and chocolate with caramel without the sugar.
These bars are perfect anytime snack, perfectly portable for lunch bags and the office stash.
HERSHEY'S Candies are OU Certified as a Kosher dairy product, and are manufactured on equipment that also processes milk, tree nuts, and peanuts.
This product ships as 8-ounce bags in a pack of 3.
JOLLY RANCHER Sugar Free Assorted Hard Candy
About the product
First of all, this is the perfect treat for people keeping an eye on their sugar
Flavors include apple, raspberry, watermelon, and grape
Sugar free, fat-free, and cholesterol-free candy
Individually wrapped hard candy
This product ships as 3.6-ounce bags in a pack of 12.
ChocZero's Keto Bark, Milk Chocolate Almonds, 100% Stone-Ground, No Added Sugar, Low Carb, No Sugar Alcohols, Non-GMO
About the product
Finally a healthy milk chocolate. There's no added sugar to this bark and absolutely no sugar alcohols nor artificial sweeteners. Sweetened exclusively with monk fruit and soluble vegetable fiber.
Low carb: only 3g net carbs per ounce. Perfect for those on the keto lifestyle and other low carb diets.
100% stone-ground for a unique creamy texture. Premium cocoa beans ethically sourced from South America for a unique flavor.
All natural, non-GMO, and gluten free. Made proudly in the USA.
Russell Stover Sugar Free Break It Rabbit,
bout the product
Handmade in Small Batches
Made in the U.S.A.
Free standard shipping on orders over $25 from Russell Stover Chocolates
Over 85 years of making chocolates!
Made with Russell Stovers fine chocolate blends of milk, dark or if you would rather, white.
Russell Stover Sugar Free Chocolate Covered Easter Egg with Marshmallow
About the product
6 Sugar Free Marshmallow Eggs
Covered in Chocolate
1-ounce bars
Low in Carbohydrates
Low in Fat
Russell Stover Sugar Free Bundle of 6 Easter Favorites Chocolate Rabbit, Jelly Beans, Chocolate Covered Eggs
About the product
First of all, this is the, 6 Easter favorites in a sugar free bundle that includes 1 Break-It Rabbit 4.5 oz., 1 Jelly Bean Bag 7 oz., 4 Chocolate Covered Eggs 1 oz. each.
Russell Stover 4.5 ounce Break-It Sugar Free Rabbit delivers easy portion control while celebrating the season.
Sugar Free Premium Jelly Beans deliver the expected Russell Stover quality in a resealable 7 ounce bag is rather nice.
4 delicious, 1 ounce chocolate covered Russell Stover Sugar Free eggs in your choice of Marshmallow, Coconut, or a combination of 2 each.
See my recipe for Sugar Free Glaze. I also have some ideas for how to make sugar free powdered sugar- great for dusting over these lemon bars.