I am sure that there are some folks out these who would love to find a Sugar Free Hamantaschen Recipe.
Hamantaschen is a triangular shaped cookie with filling in the middle.

Sugar Free Hamantaschen Recipe
I am sure that there are some folks who are scratching their heads right now with this recipe.
The quick answer to what a Hamantachen actually is would probably be a triangular cookie with fruit in the middle. Hamantaschen is not a cookie that you see every day.
If you have ever heard of Purim then you have probably heard of Hamantaschen.
The long answer to what a Hamantaschen is would be that is a cookie that is eaten this time of the year in celebration of the holiday known as Purim. This unique cookie is shaped in a triangle and the center of the triangle contains some kind of a filling.
What makes a Hamantaschen so unique, as mentioned, is the filling that goes into the center of it.
You may be wondering what to use as a filling the Hamantaschen.
Poppy seed is the most traditional filling that is used. Also popular are fruits such as dates, prunes, apples etc. These days, probably the best cheat out there would be to use preserves or jelly in your Hamantaschen.
Since this is a sugar free recipe, we will be using filling ingredients that have no added sugar in them.
Orange Marmalade without any sugar added to it is one option. You can find a calorie-free version of Orange Marmalade online. Also, there is a Raspberry spread that is sugar and gluten free that you may want to check out as well. My favorite filling idea would have to be sugar free chocolate chips- which you can also find online.
I do have similar recipes that you may also like.
People seem to like the idea of my gluten free low sugar challah bread recipe. There is also a blueberry muffin recipe and my low carb copycat Red Lobster biscuits. Be sure to follow me on facebook and subscribe to my recipes via email to keep up to date as well.
There are some tricks of the trade to follow when you make Hamantaschen.
Because Hamantaschen has been made for probably hundreds of years, there are a few tricks of the trade that have been handed down through the generations.
The dough should be the right temperature when it is rolled out. If it is too warm it can be too soft to use and if it is too cool you will have problems rolling it out.
Also, the thickness of the dough matters too. About ⅛-1/6th of an inch is ideal thickness to prevent uneven baking or cracking.
Use a filling that is thick and by 'thick' I mean not watery thereby seeping through the corners.You can also refrigerate the filling prior to adding it.
Do not add too much filling as filling has a tendency to bubble or boil while baking and can seep over the edges of your Hamantaschen. About a teaspoon each is all you really need.
Proper edge pinching of the dough is essential for keeping your filling where it belongs.
Use a round cookie cutter or cup to cute out your dough circles. 3-3 ½ inch is ideal.
Sugar Free Hamantaschen Recipe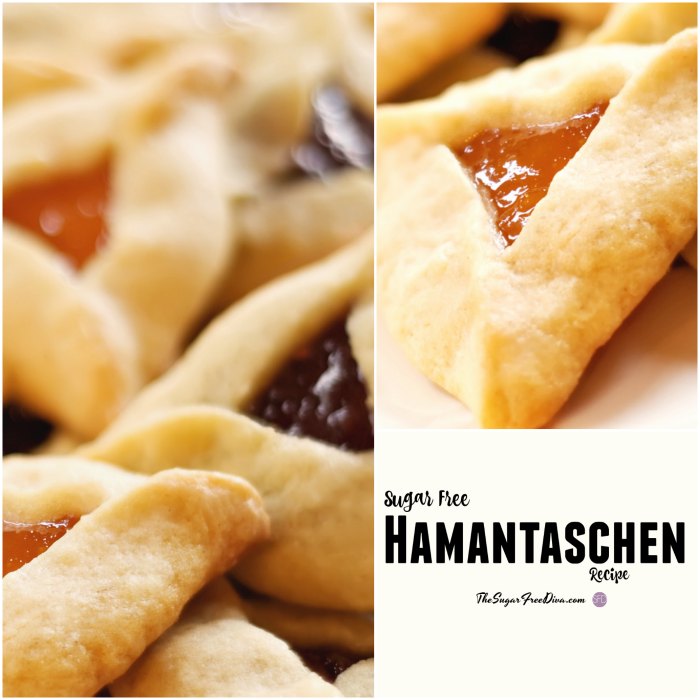 Print Recipe
Sugar Free Hamantaschen Recipe
A Sugar Free Hamantaschen Recipe
Ingredients
1.

Flour- 3 cups AP

can sub in alternatives such as low carb flour or a gluten free flour.

2.

Salt- ½ tsp.

3.

Butter- ¾ cup softened

4.

Sugar Alternative- Equivalent to ½ cup of sugar

granular such as Splenda, works well.

5.

Eggs- 2 large.

6.

Vanilla Extract- 1 tsp .

7.

Filling- 1 ½ cups

see post for details.
Instructions
In a medium bowl, sift together the flour and salt. Set this bowl aside.

In a mixing bowl, mix the butter and sugar alternative until creamy.

To the butter and sugar alternative, add the eggs, then the vanilla and zest and continue to mix. – Now, slowly add the flour mix a third at a time, mixing between additions.

– When dough forms a ball, and it may need your help in doing so, wrap it in plastic and refrigerate for at least and hour.

– When ready to prepare, preheat your oven to 350 and prep your pans for nonstick. I use parchment or silicon for this.

– Roll out the dough on a lightly floured surface, to about ⅛th thickness. You may want to divide the dough first and work in sections.

Use a 3-3 ½? cookie cutter or cup to cut out circles.

In the center of each circle, place about a teaspoon of filling. I would suggest working a few cookies at a time rather than the entire batch at once.

To form your triangle, fold the left and right sides of the circle together so that they meet at a corner on top, There should be filling exposed (about an inch) in the center as you do this. Pinch the corner formed tightly and then repeat this procedure folding up the bottom of the circle to form the rest of the triangle.The key is to pinch the corners tight enough to seal them as to not loose any filling out of the corners.

Using a pastry brush, you can brush a bit of water or additional egg on the dough to make it easier to work with.

Transfer to your cookies to your baking sheet.

Bake for 16-18 minutes or until cookies start to brown.
Recipe Notes
See post for details on ingredients etc.
*As an Amazon Associate I earn from qualifying purchases. This means that the links on this website, and specifically on this post, that lead to other sites may be affiliate links.
Please note: Nutritional data has been calculated using a tool that comes with this recipe card and not by me. This means that Nutritional Information is only an estimate and can vary especially with ingredients that you use. The accuracy of this tool may differ from other tools as expected. Also note that there is no instructional value to the video that may be attached to this recipe. It is only there for visual pleasure. For more information about the images in this recipe, please refer the the recipe instructions. Thank you!
---
Follow Me
https://www.pinterest.com/thesugarfreediva/
https://www.facebook.com/thesugarfreediva/