We sell a lot of pancakes at my restaurant.
This recipe for Sugar Free Lemon Pancakes is very much like one of the most popular pancakes that we sell.
Sugar Free Lemon Pancakes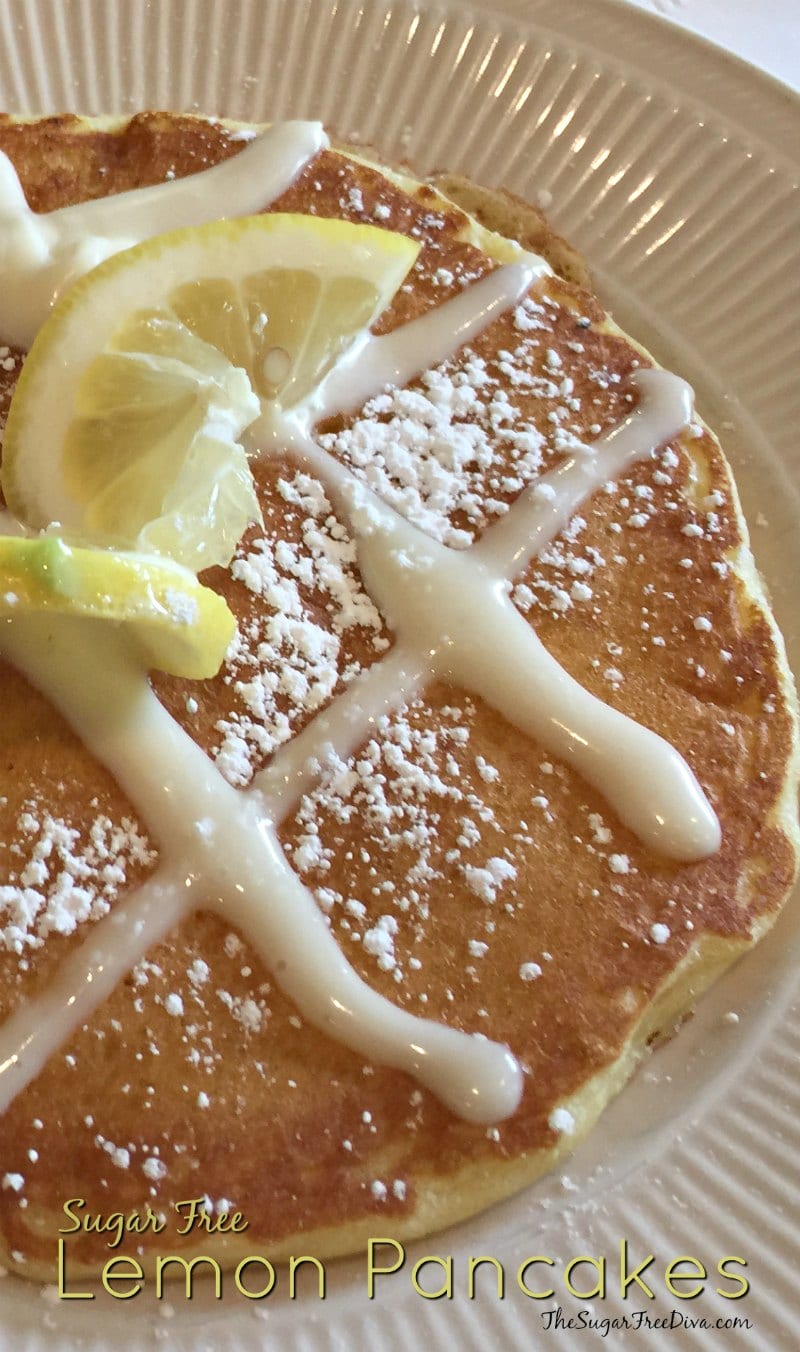 I must clarify that when I say that we sell a lot of 'this pancake', I mean that we sell a lot of the lemon pancakes that contain sugar in them.
Our customers seem to love out pancakes and with good reason. The pancakes that we serve are probably the best in town… not to brag or anything… :).
Like with most restaurants, our pancakes also come with sugar in the recipe. Like most restaurants, we do not serve a sugar free version of every pancake as that would not be very cost-productive for us to do. People generally are not going to my restaurant to save on calories- quite the opposite actually.
Obviously, I am not going to divulge our secret recipe for pancakes.
There are many reasons for keeping secrets secret. Keeping our secret pancake recipe secret is important as we like owning a profitable business.
This recipe for Sugar Free Lemon Pancakes is a good alternative for the pancakes that we serve to our customers who come to our restaurant.
This recipe is based upon the sugar free recipe that I personally use when I make pancakes at home. I have adjusted this recipe to add the taste of lemon.
I personally love the taste of lemon.
When added, in moderation, to a recipe like this, lemon gives us a fresh taste on something old and loved.
I guess that the big question is, do you use freshly squeezed lemon juice or something else?
I personally like the taste of fresh lemon juice. Lemon zest is also used. If you do not have access to lemon zest, you could try a lemon oil.
I also use Greek Yogurt in this recipe.
Greek Yogurt is my go-to ingredient when a recipe calls for certain dairy products such as buttermilk. You could substitute buttermilk in for the Greek Yogurt.


The recipe for Sugar Free Lemon Pancakes
Sugar Free Lemon Pancakes
A sugar free alternative to a delicious pancake with a lemony taste.
Ingredients
Eggs- 3 separated
Greek Yogurt- 3/4 cup (can sub in buttermilk or milk)
Sugar Alternative- 2 tablespoons equivalent
Flour (AP)- 1/3 Cup
Butter- 1 stick melted
Salt- 1/2 tsp
Lemon juice/Lemon Zest/ or Lemon Oil for cooking- 1 tablespoon
Instructions
Prep your skillet for nonstick and heat on medium heat.
In a mixing bowl, mix together everything but the egg whites.
In another mixing bowl, beat the egg whites until stiff. Gently folks the egg whites into the first bowl with the batter.
Cook each pancake for 1 1/2- 2 minutes or until tops bubble. Flip over and cook for another 30-50 seconds or until done.
Serve with sugar free icing (recipe on site) and/or dusted with sugar free 'powdered sugar' (recipe on site)
https://thesugarfreediva.com/sugar-free-lemon-pancakes/
Recipe courtesy of TheSugarFreeDiva.com
In the recipe above I mention to serve with icing and/or powdered sugar.
Obviously, we want to keep this as sugar free as possible.
I have a recipe for sugar free icing. To make the sugar free powdered sugar, simply add 1 tablespoon of corn starch to 1 cup (equivalent) of your favorite sugar alternative .