These Sugar Free Pistachio Muffins are really easy to make.
They are also pretty good to eat as well.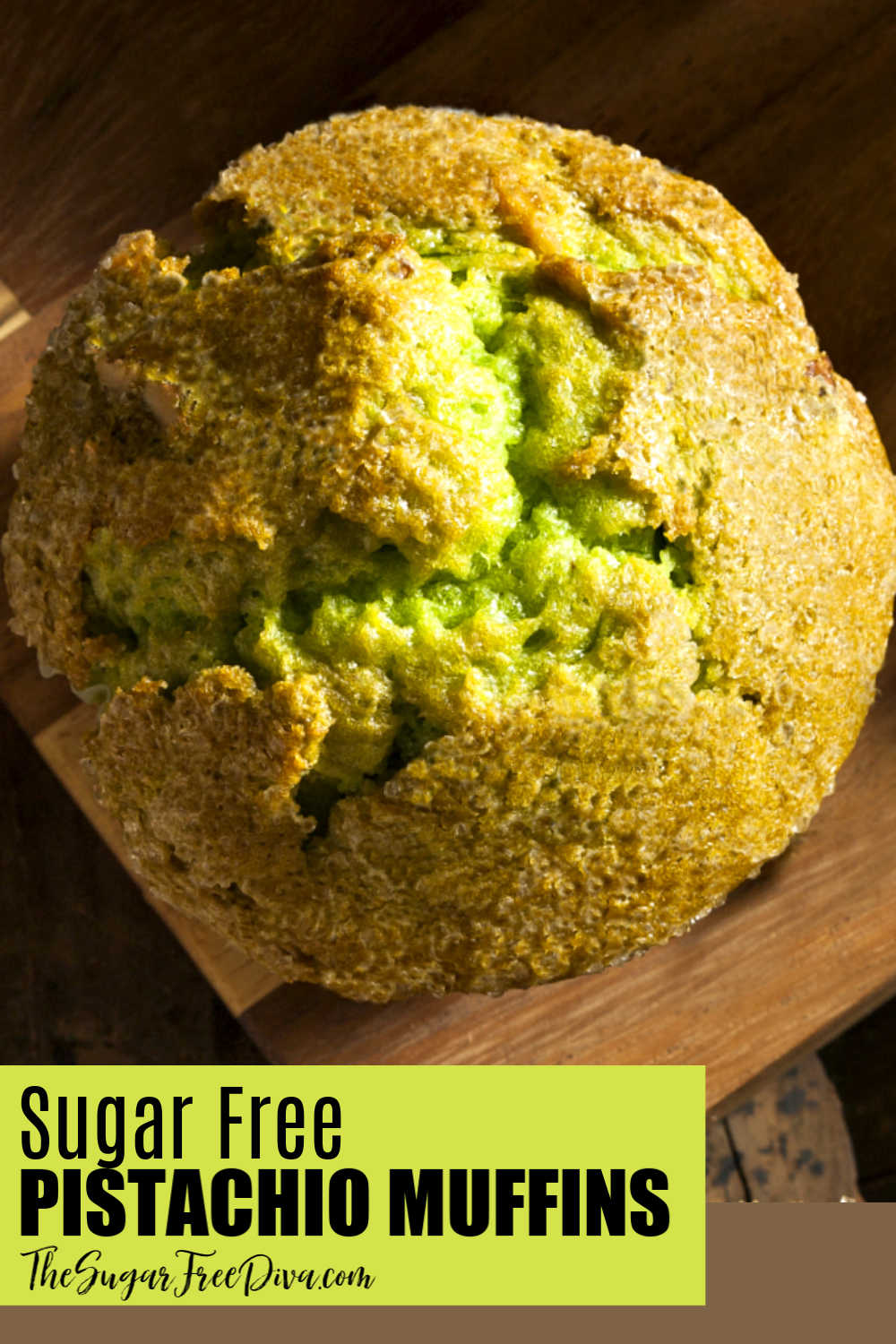 Sugar Free Pistachio Muffins

These muffins are a great way to start out your day.
However, they also make for a great tasting snack as well.

This recipe is especially popular with people who are fans of the pistachio nut.
Here I am raising my hand. I am a fan of really any kind of a nut, especially pistachio nuts.

I am reminded of the days, as I age myself, that the shells of pistachios were dyed red.
Folks who packaged and sold pistachios would dye them red to cover up less than perfect looking pistachio shells.
However, anyone who ate these pistachios will tell you that this red dye created havoc on the finger tips, thus rendering people to the sink in search of some good soap and a scrub brush of sorts.
Luckily, the days of dying the shells of pistachios red are pretty much over.
Thanks in part to better looking pistachios being grown, we no longer need to worry about scrubbing reddened finger tips.
Some things really do improve with time if you ask me.
Pistachios really tasty nuts to eat.
Sure, they may be smaller than the other nuts and green.
However, the pistachio is still worth cracking a shell over.
You may not know this but, the pistachio is actually part of the cashew family.
What does this mean exactly?
Well, mostly this is useless knowledge that can impress others around the dinner table, or whatever table you want to serve these muffins at. But, you should know that each pistachio has under five calories in it and they are loaded with good stuff like healthy fats antioxidants and even protein.
Getting back to the recipe at hand..
To be honest, I was not sure whether to call this recipe Pistachio Muffins or Pistachio cupcakes.
This recipe kind of seems to land somewhere in the middle of the spectrum on what they are. So, feel free to call these Sugar Free Pistachio Muffins what you would like to call them.
However, if you are thinking about making these Sugar Free Pistachio Muffins as cupcakes, here are some frosting recipes that you may want to pair them with.
I should also mention that there is indeed a secret ingredient in these muffins.
You will need a box of Sugar Free Pistachio Pudding.
You can find Sugar Free Pistachio Pudding online.
Sugar-Free Pistachio Instant Pudding Mix 1 Ounce Box
Here are some similar recipes that you may also like.
Keep up to date with my recipes
You can check out my guide on baking with sugar alternatives on Amazon

I have some great tips on which alternatives may work in a recipe such as this one.
Be sure to follow me on facebook and subscribe to my recipes via email to keep up to date as well.
The recipe for Sugar Free Pistachio Muffins
As mentioned, you will need a box of Sugar Free Pistachio Pudding.
You can find Sugar Free Pistachio Pudding online.

What you will need to make this Sugar Free Pistachio Muffins
You can shell your own pistachios or you can buy shelled pistachios easily online.

How to make Sugar Free Pistachio Muffins
As mentioned above, you can easily frost these muffins and serve them as cupcakes.
Here are some frosting ideas that you may enjoy using in your recipe.
The Recipe Card for Sugar Free Pistachio Muffins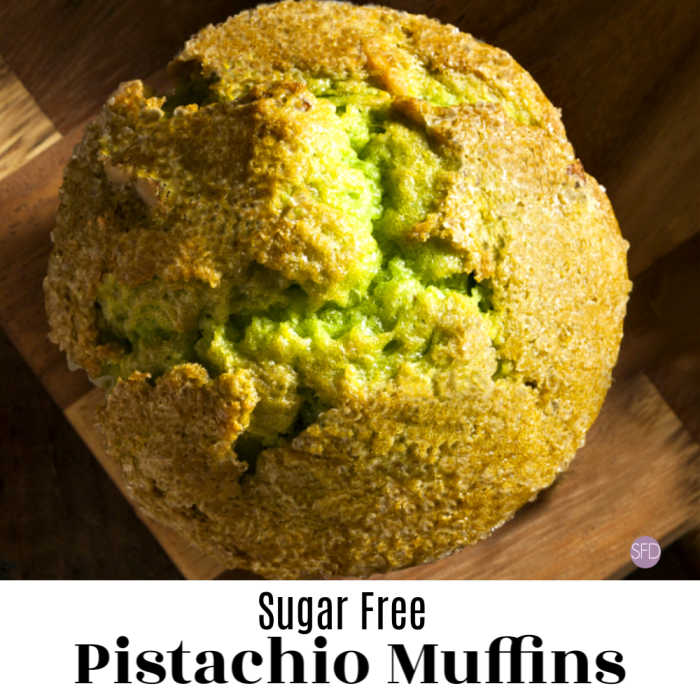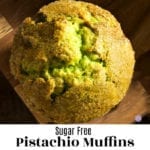 Print Recipe
Sugar Free Pistachio Muffins
Whether you decide to make these for breakfast or a snack, this delicious recipe for Sugar Free Pistachio Muffins is so easy to make.
Instructions
Start by preheating your oven to 400 and prepping your muffin pan well for nonstick.

In a medium bowl, sift or whisk together the baking powder, flour, and the pudding mix. Set this bowl aside.

Next, in a mixing bowl, cream together the butter and sugar alternative. This should become somewhat fluffy depending on the sugar alternative that you used.Then stir in the eggs, one egg at a time. Then you can stir in the vanilla extract.

For the next step, we will add the dry ingredients from the first bowl that was set aside and the milk, alternating adding half at a time of one, stirring, and then adding half of the other. Finally, fold in the pistachios.

Bake these muffins for 18-24 minutes or until a toothpick comes out clean.
*As an Amazon Associate I earn from qualifying purchases. This means that the links on this website, and specifically on this post, that lead to other sites may be affiliate links.
Nutrition
Calories:
181
kcal
|
Carbohydrates:
23
g
|
Protein:
5
g
|
Fat:
7
g
|
Saturated Fat:
3
g
|
Cholesterol:
38
mg
|
Sodium:
56
mg
|
Potassium:
217
mg
|
Fiber:
1
g
|
Sugar:
1
g
|
Vitamin A:
235
IU
|
Vitamin C:
0.2
mg
|
Calcium:
84
mg
|
Iron:
1.6
mg
Please note: Nutritional data has been calculated using a tool that comes with this recipe card and not by me. This means that Nutritional Information is only an estimate and can vary especially with ingredients that you use. The accuracy of this tool may differ from other tools as expected. Also note that there is no instructional value to the video that may be attached to this recipe. It is only there for visual pleasure. For more information about the images in this recipe, please refer the the recipe instructions. Thank you!
---
Follow Me
https://www.pinterest.com/thesugarfreediva/
https://www.facebook.com/thesugarfreediva/
Thanks so much for visiting!
If you decide to make this recipe, please stop back and let me know how it turned out for you. Also, if you have any tips or tweaks to the recipe to share, please do so in the comment section below. My readers like to stop by periodically for updates on the recipes. Reading the comments below is helpful to these readers and hopefully to you too!!
Looking for a recipe that is not on my site?
Please let me know and I will will on getting that recipe for you.
Happy baking, eating, and enjoying life!
You can see items that have been featured on my Sugar Free Sunday Spotlight here.