Waffles are a big deal around here which is why we like the Recipe Sugar Free Waffles.
When I ended the unnecessary sugar in my diet, I found that I also had to omit premade baking mixes including the mixes used for most waffles and pancakes.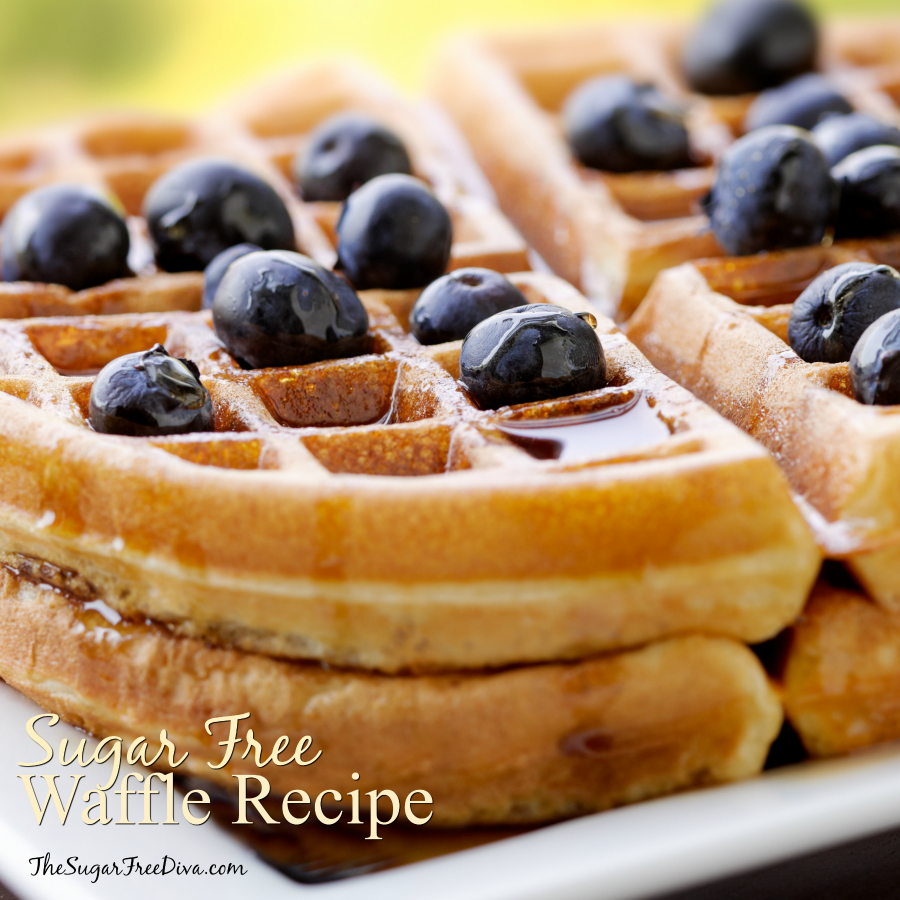 Sometimes I am surprised when I learn that there has been sugar added to something that I like to eat.
You can really learn a lot when you start reading those food labels. Sugar is added to a lot of food that may surprise us. Because I am the kind of a person who likes to know what they are eating, I almost always read the label on food these days.
Making your own homemade baking mix for waffles really is not that hard to do.
I like to make my own baking mix so that I can control what is in the food that I make and also eliminate the added sugar whenever I can eliminate the added sugar.
When I eliminate the sugar from the mix, I can add fresh fruit to my breakfast.
Topping my sugar free waffles with a bit of fruit, such as blueberries or strawberries, makes for a delicious breakfast.
What do you like to top your waffles with?
I know that some folks like powdered sugar on their waffles. Syrup on waffles is always a safe choice. Luckily, there are syrups without a lot of sugar in them. I use sugar free syrup for many of the food that I make at home since sugar free syrup adds that sweet taste without all of the sugar.
I like to add lemon to my pancakes and waffles.
By 'lemon' I mean a bit of fresh squeezed lemon juice or lemon extract. If you are unsure about the lemon taste in your waffles or pancakes, simply stick with some vanilla extract instead. Vanilla brings us a great taste that we like as well in our baked foods.

This is how I make my waffles without any sugar added to the mix.
The delicious way to make waffles that are sugar free.
Ingredients
Flour (AP)- 2 Cups
Sugar Alternative- Equivalent to 1/4 Cup of Sugar
Baking Powder- 1 tablespoon
Salt- 1/2 teaspoon
Greek Yogurt- 1 cup
Milk- 1/2 cup
Lemon Juice or Extract- can use vanilla instead, 1 1/2 tablespoon
Eggs- 2 separated
Butter- 1 stick melted can sub in 1/2 cup of oil
*Make these lower carb by subbing in 2 cups of Carbquick for your dry ingredients
Instructions
Preheat and prep as needed your waffle oven.
Sift together the flour, salt and baking powder in a small to medium bowl.
Add the yogurt, milk extract, and egg yolks to the dry bowl and mix together.
In another bowl, whip the egg whites until somewhat stiff.
Now fold the egg whites into the mix without mixing them too much.
Cook the waffles until golden brown.
https://thesugarfreediva.com/the-recipe-for-sugar-free-waffles/
Recipe courtesy of TheSugarFreeDiva.com