One of my goals on this site is to familiarize my readers with products that allow me to live in a low sugar world.

One product that I use regularly is Tova Carbquik Low Carb Bake Mix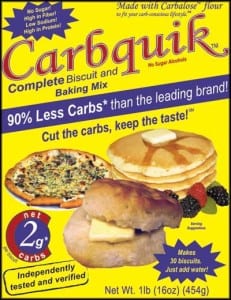 Tova Carbquik Low Carb Bake Mix
I first discovered this product when I was on a low carb diet. This is one of the items that got me through that diet successfully. I still use it all the time for much of my baking needs.
Think of Tova Carbquik Low Carb Bake Mix like the low carb version of your standard baking mix.

MY LATEST VIDEOS
I use this to make pizza, every Friday night, breads, and even cookies. I have also used it to make pancakes and waffles.
Carbquik is made from wheat, which the manufacturer says tastes like flour. They also say that Carbquik will work in almost any recipe calling for traditional bake mix. It can be used in pancakes, biscuits, waffles, pizzas, and just about any other baked product. You can even fry with it (don't try that with other low-carb bake mixes).
most Carbquik recipes have 3 net carbs or less per serving.

I get my Tova Carbquik Low Carb Bake Mix at Netrition.