(Click Here to Print)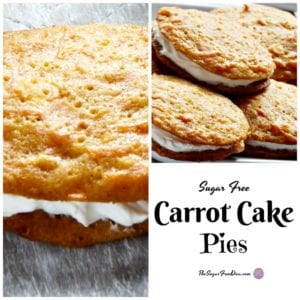 Sugar Free Carrot Cake Pies
A sugar free version of a carrot cake whoopie pie dessert. This can be made low carb or gluten free.
Flour

AP- 2 cups. See post for alternative ideas.

Baking Soda- 1 teaspoon.

Baking Powder- 1 teaspoon.

Ground Nutmeg-1 teaspoon.

Ground Cinnamon- 1 teaspoon.

Butter- 1 stick softened at room temperature.

Sugar Alternative- equivalent to 1 cup of sugar. Granular works best.

Eggs- 2.

Vanilla Extract- 2 teaspoons.

Grated Carrots- 2 cups.

sugar free frosting or sugar free creme filling
Preheat your oven to 325. Prep your cookie pan for nonstick. I use parchment paper.

In a medium bowl, mix together the flour, baking soda, baking powder, nutmeg, and cinnamon. Set this bowl aside.

In a mixing bowl, creme together your butter and sugar alternative. It should take from 4-5 minutes of mixing on medium to get the desired consistency of this.

Add the eggs to the mixing bowl, one at a time. Then add the vanilla extract.

Slowly add the dry ingredients from your first bowl and mix on low. Do not over mix however, allow for ingredients to be mixed together.

Fold the carrots into the mix by hand.

Scoop the cookies onto the prepped pan leaving a couple of inches between cookies. Then use the palm of your hand or the back of a spoon to press the cookies down.

Bake for 12-15 minutes or until cookies begin to brown. Remove from the oven and allow the cookies to cool on the pan for at least 5 minutes. Then allow to cool on a cookie rack or somewhere cool until you are ready for construct your pies.
See recipe post for details on filling and alternatives.