(Click Here to Print)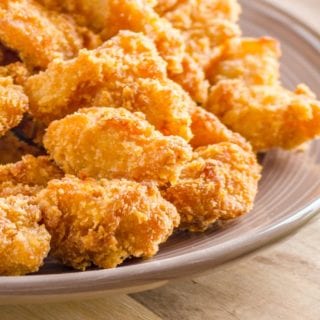 LOW CARB Baked Chicken Recipe
A delicious and easy recipe for a low carb baked chicken that resembles fried chicken but, without the added calories or carbs.
Servings
1
pound depending on cut used
Chicken- 1 pound

strips (easy cheat!), chunks or cut up.

Olive or Other Oil- 1 tablespoon

Carbquik Baking Biscuit Mix- 1 cup

Seasonings*- Paprika

Italian Style,salt, pepper and/or other of choice- 1 1/2 tablespoon in total
Preheat the oven to 400 and prep a baking pan for nonstick. Parchment paper or silicon mats are easy ways to prevent sticking chicken.

In a gallon sized zip top bag, combine the seasoning and the baking mix and set aside.

Using a soup or cereal sized bowl, pour the oil into the bowl.

Dip each individual chicken piece into the oil, shake the excess oil off back into the bowl and then place the chicken piece into the bag that was set aside.

Transfer the prepared chicken from the bag to the baking pan and then repeat until each piece of chicken has been prepared and placed on to the pan.

Bake the chicken for 30 minutes, flip or rotate it (depending on the cut being used) and continue to bake for another 10-12 minutes or until the chicken is no longer pink. This timing will depend on the cute of chicken being used.
*Seasonings of your choice to personalize this recipe. Those listed are suggestions. If using a prepared seasoning mix make sure it is low or no carb.