(Click Here to Print)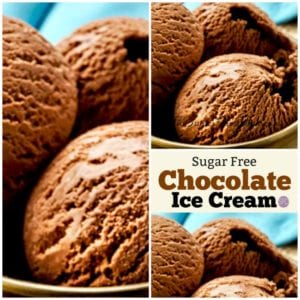 Homemade Sugar Free Chocolate Ice Cream
Enjoy this tasty homemade chocolate ice cream that has no added sugar.
Heavy Whipping Cream- 2 cups

Evaporated Milk- 1 3/4 Cup

Sugar Substitute- 1/2 Cup Equivalent

Unsweetened Cocoa- 2 tablespoons
You will need a stand mixer with a whisk attachment for best success with this.

In a small bowl, mix together the sugar substitute and unsweetened cocoa. Set this aside.

To the mixing bowl, combine together the evaporated milk and whipping cream. Give this a few stirs by hand.

Now, you can add your small bowl contents of the unsweetened cocoa and sugar substitute to the mixing bowl.

Set the mixer on low for 15 seconds and then increase it to high. Whip the ingredients until a peak forms- about 4-5 minutes.

Give the mixture a quick stir and then pour it into a freezer-safe container.

Freeze overnight or for about eight hours prior to serving.

Enjoy!