(Click Here to Print)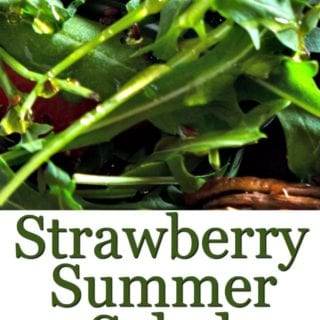 An Easy Strawberry Vinaigrette Salad
A delicious summer salad that is light and tasty. This salad features fresh strawberries and greens.
For the salad:

You can usually find a variety package of mixed greens at the grocery store. However

you can also make your own. Look for these greens to include in your summer salad:

'Baby lettuce' such as romaine

red leaf, and butter

Chard- red or green

Arugula

Kale

Spinach

Radicchio

For the dressing:

Frozen or fresh strawberries work best. If you are using bagged strawberries

be sure that there is nothing else added to the bag besides strawberries (ie-sugar or similar products)

Strawberries- 1 cup halved and stems removed

Apple Cider Vinegar-2 tablespoons

Extra Virgin Olive Oil- 2 tablespoons

Sugar Alternative- 1 tablespoon sugar equivalent - can use a honey or sugar free honey etc

Lemon Juice -1 tablespoon

Salt and Pepper and seasonings to taste
To make this dressing, simply add all of your ingredients together in a blender and blend.

Transfer to a bottle to store in the refrigerator for at least 30 minutes. You can find the perfect bottle, made just for homemade dressings, on Amazon.

Prior to serving, whisk the dressing or gently mix it in the bottle. Then you can easily toss this with your salad and serve.

Store in a refrigerator and whisk together if not using this immediately. It should keep for a few days.
See post for more information