(Click Here to Print)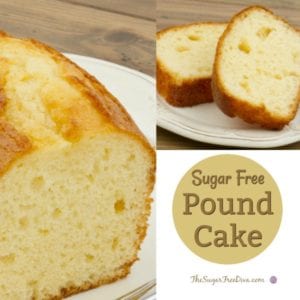 Sugar Free Pound Cake
A sugar free recipe for a traditional pound cake
Cook Time
1
hour
30
minutes
Total Time
1
hour
50
minutes
Servings
10
-12 servings depending on size
Flour- 3 cups

ap flour.

Baking Powder- 1 teaspoon.

Salt- 1/4 teaspoon.

Sugar Alternative- Equivalent to 2 1/2 cups of sugar. Please use a granular option that is 1:1 with sugar in volume.

Butter- 1 cup softened to room temperature plus additional for prepping pan.

Eggs- 6.

Sour Cream- 1 cup. See post for alternatives.

Vanilla Extract- 2 teaspoons.
How to Make Sugar Free Pound Cake

Using a medium sized bowl, mix together your flour, baking powder, and salt. Set this bowl aside.

Now in a mixing bowl, cream together your sugar alternative and your butter. It should take about 4-5 minutes to become creamy.

When your butter and sugar alternative are creamy you can add your eggs one at a time. Mixing the eggs in one at a time by hand will allow you to scrape the bowl while you mix and thus, get your ingredients well blended.

Stir in the sour cream and the dry contents from the other bowl to the mixing bowl add 1/2 of each alternatively at a time (1/2 flour. 1/2 half sour cream. 1/2 flour. 1/2 sour cream). Then stir in the vanilla until just blended.

Preheat your oven to 325 and prep your cake pan well for nonstick (grease and flour).

Bake for 1 1/4- 1 1/2 hours or until a toothpick comes out clean. The baking time will depend on your pan as well.

Allow this to cool well- at least 20 minutes in the pan and then an hour on a cooling rack- before serving.
Please see post for details on this recipe.