(Click Here to Print)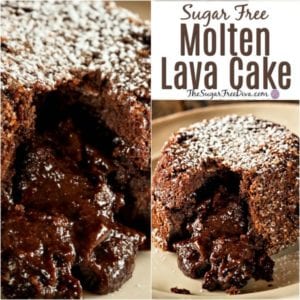 Sugar Free Molten Lava Cake
An easy and quick way to make a chocolate molten lave cake that is sugar free
Sugar Free Devil's Food cake mix--1 box

12-16 ounce

Water--1 1/4 cup

Canola oil--1/2 cup

Eggs--3 large

Vanilla Extract--1 tsp

Melted Butter--2 tbs

Chocolate Chips--1 cup - sugar free

Nuts-- 1/2 cups chopped - your choice- I use two kinds of nuts chopped

for better flavor Chopped Nuts

Optional- dust with sugar free powdered sugar made from 3/4 cup SPLENDA+

2

tablespoons

cornstarch
Preheat oven to 350 and prep your baking/custard cups/pans for nonstick.

In a medium bowl, combine together your eggs, vanilla, water, and oil.Set asideMeanwhile, place your baking mix in a large mixing bowl. Slowly add that wet ingredients from your first bowl to the mixing bowl. Mix until blended- do not over-mix

Pour the batter into your baking/custard cups/pan. Divide the chocolate chips and nuts evenly among the cakes without stirring them in.

Allow to bake for 25-30 minutes-- the tops should 'jiggle' somewhat.

Remove from oven and invert onto individual plates. Dust with optional sugar free powdered sugar.