(Click Here to Print)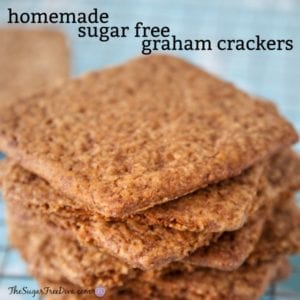 Sugar Free Graham Crackers
A sugar free recipe for graham crackers that you can make at home.
Graham Flour- 2 cups

see post for alternatives.

All purpose

AP Flour- 1 cup.

Baking Soda- 1/2 teaspoon.

Baking Powder- 1 teaspoon

Butter or Margarine- 1/2 Stick Softened.

Brown Sugar Alternative- 1/2 cup

see post for details.

Molasses Alternative- 1/3 cup

see post for details.

Vanilla Extract- 1 teaspoon.

Milk- 1/2 Cup.

Cinnamon- 1 teaspoon
In a medium bowl, sift together your flours, baking soda and baking powder. Set this aside.

In a larger mixing bowl, cream together your butter, brown sugar alternative and molasses alternative. Then stir it the vanilla extract.

Mix in the dry ingredients into the larger mixing bowl and then add the remaining ingredients milk and cinnamon).

Cover and refrigerate this for at least 30 minutes.

When ready to make your crackers, remove the mix from the refrigerator and preheat your oven to 350.

Place a piece of parchment paper that is slightly larger than your pan on a flat surface. Divide the dough in half and set one half aside. Roll out the first half on the parchment paper.

When the dough has been rolled out, cut the crackers into squares and attempt to pull the sides away from one another while you cut.

Optional- use a fork or similar item to make a design on each cracker. Also, you can sprinkle the tops with cinnamon and/or granular sugar alternative.

Repeat with the second half of the dough or return it to refrigerator to make later.

Bake for 15-18 minutes, remove from oven and allow to cool on a rack. You can easily transport these crackers using the parchment paper. YAY!
See post for details on alternatives etc.