(Click Here to Print)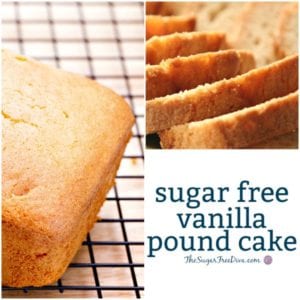 Sugar Free Vanilla Pound Cake
A basic pound cake recipe that can be made sugar free. Alternatives can also be for gluten free and low carb sugar free versions as well.
Total Time
1
hour
20
minutes
Flour

AP- 1 1/2 Cup (see post for gluten free/low carb alternatives).

Salt- 1/4 teaspoon.

Baking Soda- 1/4 teaspoon.

Butter- 1 1/2 Sticks

softened at room temperature.

Sugar Alternative- use the amount of your alternative that is equal to 1 1/4 cup of sugar. For example

if you are using Splenda granular, it would be 1 1/4 cups of that since it is 1:1 with sugar.

Eggs- 2.

Vanilla Extract- 2 teaspoons.

Sour Cream- 1/2 cup

see post for alternative.
Preheat your oven to 350. Prep your pan/dish for nonstick. If using a glass dish, for example, you may want to both grease it as well as dust it with flour. I find Bundt cakes are easy to make with this recipe too.

In a mixing bowl, whisk or mix together your flour, salt and baking soda. Set this aside.

In a mixing bowl and using a mixer, beat together your butter and sugar alternative. Beat on medium to medium high until it resembles a fluffy look (sugar would be a more obvious fluffy result). Now add your eggs one at a time, mixing on low between additions.

Slowly add the dry ingredients from your first bowl to your second bowl stirring as you go. Add the remaining ingredients and mix on low.

Pour your batter into the prepped pan/dish, making sure that the batter is evenly distributed.

Bake for 60-65 minutes or until a toothpick comes out clean.

To remove from baking dish (why a bundt pan is so nice to use...). Allow the baking dish with the cake to cool on a wire rack. Run a knife between the cake and the sides of the dish and then invert it to finish cooling (hack: place the rack on the top of the baking dish and then flip it over).
See post for alternatives and other details.