(Click Here to Print)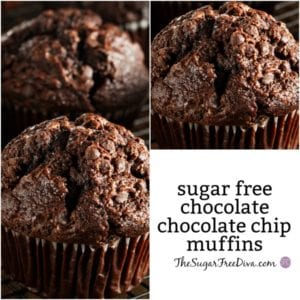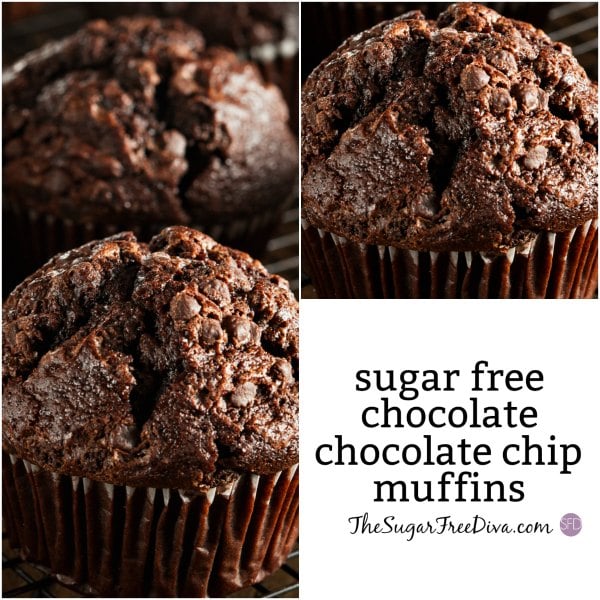 Sugar Free Chocolate Chocolate Chip Muffins
A sugar free way to enjoy a chocolate chocolate chip muffin.
Servings
10
-12 muffins depending on size
Flour

AP- 2 cups.

Sugar alternative- 1 cup equivalent to sugar. Granular is preferred.

Baking Powder- 2 teaspoons.

Baking Soda- 1 teaspoon.

Unsweetened Cocoa- 1/2 cup.

Vegetable Oil- 1/2 cup.

Milk- 1 1/4 cup.

Egg-1.

Vanilla Extract- 1 teaspoon.

Sugar Free Chocolate Chips-1/2 cup for batter and then another 1/4 cup to top muffins with.
Preheat your oven to 400 and prep your pans for nonstick.

In a mixing bowl, combine together the flour, sugar alternative, baking powder,baking soda, and unsweetened cocoa. Set this bowl aside.

Using another bowl, whisk together the vegetable oil, milk, vanilla extract, and egg.

Mix the contents of the second bowl of wet ingredients into the first mixing bowl of dry ingredients. Then gently blend in the chocolate chips.

Fill each muffin cup about 2/3rds and then top with additional chocolate chips.

Bake for 18-20 minutes.If using a toothpick to test for doneness, take into consideration that the melted chocolate chips may give you a false result.

Allow the muffins to cool for 10-15 minutes before removing muffins from the pan to allow the chips to set.
See post for details on ingredients.