(Click Here to Print)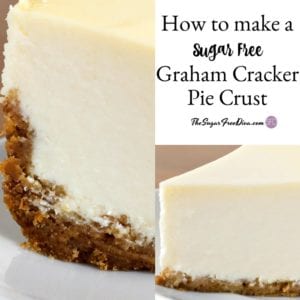 How to Make a Sugar Free Graham Cracker Pie Crust
The recipe for How to Make a Sugar Free Graham Cracker Pie Crust
Sugar Free Graham Crackers

see post for details and alternatives- 1 1/2 cups crushed. Tip: you can use a food processor to crush your crackers or place the crackers in a zip top bag and crush them.

Butter- six tablespoons melted

one stick has 8 tablespoons.

Sugar Alternative- granular works best

equivalent to 1/3 cup of sugar.
rep an oven-safe pie plate for nonstick and preheat your oven to 375.

In a bowl, you will combine all of your ingredients starting with the crushed crackers. Place the crushed crackers in the bowl and stir in the sugar alternative over them. Then, pour the melted butter over the contents of the bowl, moving the contents around as you do so in an effort to get the crackers covered with the butter.

Attempt to get a handful of the mixture in your hand. If you are able to press the ingredients together, you are ready to move on. If not, try to add a teaspoon of water or additional melted butter at a time until you are able to manipulate the mixture.

Press the mixture into your pie plate. If this pie crust will be used in a recipe that calls for a crust that has not been baked then continue on using that recipe from here. Otherwise, bake your crust for 8-10 minutes until dry. Allow the crust to cool unless otherwise directed.
See post for alternatives and substitutions as well as how to make your own sugar free graham crackers.