(Click Here to Print)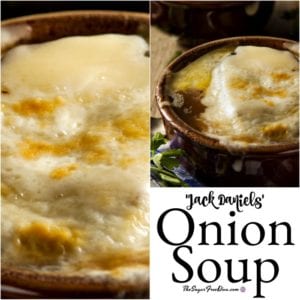 Jack Daniels French Onion Soup
A really delicious way to enjoy a favorite classic onion soup is to add a bit of whiskey to it.
Sliced onions- four cups

sliced about 1/4" thick.

Butter- 3 tablespoons.

Jack Daniel's

or your favorite whiskey- 1/3 cup.

Beef stock- 4 cups.

Seasonings as desired.

Cheese

Parmesan, Gruyere, or similar Italian cheese- can mix- 1 cup shredded. Can use sliced instead too.

Optional- sliced baguette bread- 4-8 slices
In a large stockpot on medium heat, saute your onions in the butter until they begin to brown.This should take between 15 and 20 minutes.

Now stir in the whiskey and turn the heat down to low, allowing this to simmer for about 5 minutes.

Add the beef stock and any desired seasonings. Bump up the heat to allow the soup to boil, uncovered. Once the soup begins to boil, turn the heat down to a low-medium setting and allow it to simmer for at least 30 minutes prior to serving.

To serve this in an authentic way, simply ladle the soup into the soup crock, add the sliced bread, and the top with cheese. The amount of cheese that you use is as desired because some folks like a lot of melted gooey cheese while other folks like just a bit of shredded cheese.
See post for details on ingredients.
Nutrition Facts
Jack Daniels French Onion Soup
Amount Per Serving (1 g)
Calories 0
* Percent Daily Values are based on a 2000 calorie diet.