(Click Here to Print)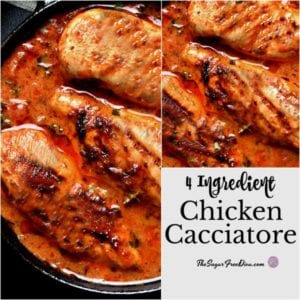 4 Ingredient Chicken Cacciatore
A simple way to make a classic Chicken Cacciatore. Many options are provided for alternatives in this as well.
Servings
4
pieces of chicken
Chicken- 4 thighs are the standard in this recipe. I prefer breasts. Keep this skin on for cooking

see post for details.

Olive Oil- 2 tablespoons.

Tomato Sauce- 1 8-9 ounce can.

Diced Tomatoes- 1 can 14-15 ounces

not drained.

>>>Yes

you can use any or all of these optional items.<<<

Seasonings such as salt and/or pepper and/or anything Italian.

Garlic- 2 cloves minced.

Onion- 1 small chopped or minced.

Hot sauce as desired- my son likes this one.

Flour up to 1/2 cup to thicken sauce if desired.

Mushrooms

peppers or other vegetables- 1/2 cup chopped.

One way to get around using optional items is to use tomato sauce or diced tomatoes that already have the seasoning added to it! My favorite cheat for this recipe.
In a skillet over medium heat, cook your chicken in the oil for 18-20 minutes or until chicken begins to brown. Remove the liquid from the skillet and replace the chicken.

Now stir in your remaining ingredients and bring the skillet to a boil.

Cover the skillet and turn the heat down to simmer until the chicken is fully cooked- about 35-40 minutes depending on the cut of your chicken.

Serve this over pasta such as the low carb pasta described in the post.
See post for details on alternatives, ingredients, and more.