(Click Here to Print)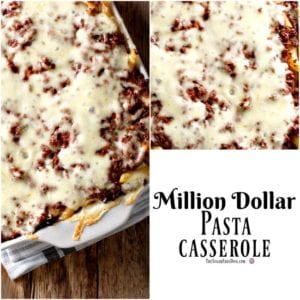 Million Dollar Pasta Casserole
A delicious pasta casserole that can be made with meat or vegetables.
Pasta- 1 pound

uncooked. See above for making this low carb!

Optional- Cooked and drained

ground beef, ground turkey or similar.- 1 pound (weight before cooking).

Ricotta Cheese- 1 14-15 ounce container.

Cream Cheese- 4 ounces softened. Can sub in alternatives for this and/or ricotta cheese.

Tomato Sauce- 1 14-16 ounce can.

Crushed or stewed

or similar tomatoes- 1 14-16 ounce can.

Butter- 1/2 stick

1/4 cup.

Eggs- 2 beaten.

Shredded Cheese Such as Mozzarella- 2 cups. I use a cheese blend of Italian cheeses for a more robust taste.

Seasonings

such as basil, as desired.
Preheat your oven to 350 and prep your casserole dish for nonstick.

Cook and drain any optional meat that you are adding. You can also use vegetables in lieu of the meat.

Cook your pasta as directed. Cook and drain and meat that you will be adding to this recipe.

In a medium bowl, mix together the ricotta and creamed cheeses. Set this aside.

In another bowl, stir together your sauce and tomatoes. Set this aside as well.

Now, in a skillet on medium heat, melt your butter until just melted. Add the eggs and then stir in the pasta. When the pasta seems well covered with the other contents of the skillet you can turn off the heat.

To assemble this casserole, we will be working in layers. On the bottom layer place half of your pasta mix. Then add the optional meat/vegetables for the next layer. Pour one half of the tomato sauce mix over the meat/veggie layer. Top this with the cream/ricotta cheese as a layer.

Mix the remaining pasta with the remaining tomato sauce and tomatoes. Add this mix over the top layer.

Finally, top with the shredded cheese. Season as desired.

Bake you million dollar pasta casserole for 35-40 minutes. The cheese should begin to brown when this is ready. Remove from the oven and allow to cool.
See post for ingredient details. This can be made low carb as well.