(Click Here to Print)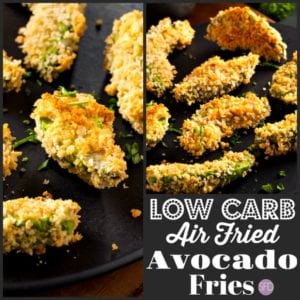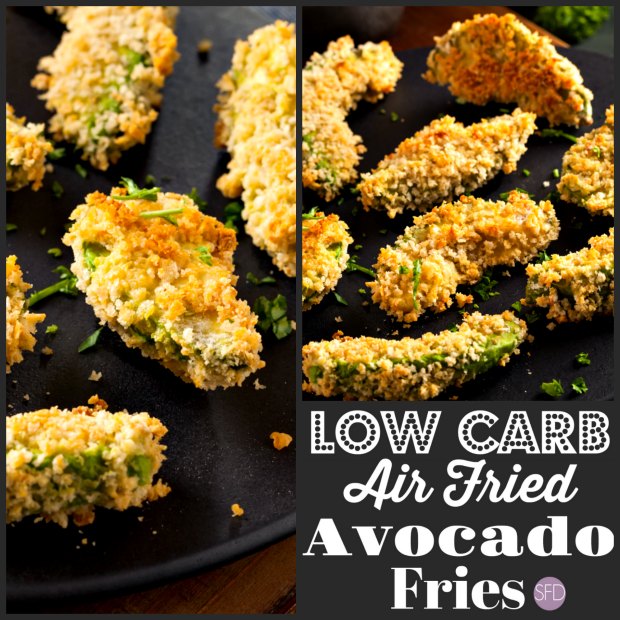 Low Carb Air Fried Avocado Fries
A delicious air fried snack or appetizer that is low in carbohydrates as well.
Low Carb Flour- 1 cup. See post above for details.

Also

Low Carb Bread Crumbs- 1 cup. See post for details.

Eggs- 2.

Water- 2 tablespoons.

Avocados- 4

sliced into wedges. The firmer the better.

Seasonings to taste- as needed.

Optional ingredients- herbs for presentation such us parsley/ cilantro. Dip such as blue cheese dressing.

How to make Low Carb Air Fried Avocado Fries

We will be making a dredging station to make these fries. I suggest using 2 salad bowls that are shallow yet large- or something similar.
Preheat your air fryer to 400. I like to spray my basket with nonstick before using it.

In the first bowl, blend together the flour, bread crumbs, and optional seasonings.

Now, in the second bowl, whip together the eggs and water. Place the bowls next to one another with the basket from the air fryer next to the dry ingredient bowl.

Using a fork to pick up the first avocado wedge, first drag the wedge through the egg and water mix taking sure to cover the wedge. Then hold the egg and water covered avocado wedge above the dry ingredient bowl. Use a tablespoon to drop the dry ingredients over the avocado wedge. You will need to rotate the avocado and drop the dry ingredients more than once to fully cover the wedge. The dry ingredients that do not stick to the avocado should fall back into the bowl.

Place the prepared avocado wedge into the basket and repeat the process. When the avocado wedges line the basket without overlapping one another, you are ready to air fry. Note that it may take more than one batch in the air fryer to air fry all of the wedges.

Place the basket into the air fryer and bake for 8-9 minutes or until crisp. I like to toss my avocado wedges half way through. Garnish as desired and serve with dip if as needed.
See post for details on ingredients.