(Click Here to Print)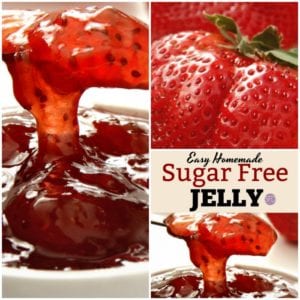 Homemade Sugar Free Strawberry Jelly
This is an easy method for making your own strawberry jelly that has no added sugar except from what comes from the strawberries.
Strawberries- 2 cups- if using frozen use no sugar added

Instant Gelatin in Strawberry- 1 -3 ounce box

Cold Water- 1 cup

Sugar Alternative–1/4 cup equivalent to sugar in volume. Also

granular works best.
Start by placing your strawberries in a blender. Blend the strawberries until a near puree results. However, there should be some chunks of strawberries for best results.

Using a large saucepan, set on medium heat, combine your gelatin, cold water and sugar alternative. Cook this, stirring continuously, until the ingredients are combined together. This should take you about 3-4 minutes.

Next, we will add the strawberries to the saucepan. Stir in your strawberries 1/2 cup at a time. Be sure to stir the saucepan contents between strawberry additions.

When all of the strawberries have been added to the pan, bring the pan to a boil.

While your saucepan is heating up to that boiling poin, you can prepare empty jars by washing and drying them if you have not done so. I recommend using the method suggested by the manufacturer of the jars.

Once the items on the stove begin to boil, turn the heat down and allow to simmer for 2 1/2 to 3 minutes. Carefully pour the mix into the jars and allow to cool.

Once your jelly has cooled in the jars you can cover them tightly. The you can store them in your refrigerator.

This method of homemade jelly should last a couple of weeks in the refrigerator.

NOTE: If using pectin instead of jello, please refer to the post above for alterations to the recipe.

Details Prep time: 10 mins Cook time: 20 mins Total time: 30 mins Yield: 42-48
Please see post for additional details including if using pectin.