(Click Here to Print)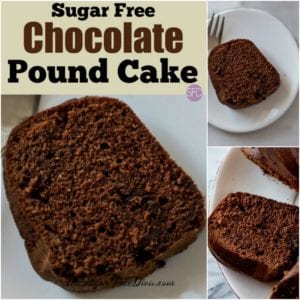 Sugar Free Chocolate Pound Cake
A delicious sugar free chocolate pound cake recipe
Cook Time
1
hour
30
minutes
Total Time
1
hour
45
minutes
Flour

AP- 3 1/2 cups. Make this low carb- Using Carbalose flour alternative

Salt- 1/2 teaspoon.

Baking Powder- 1/2 teaspoon.

Sugar alternative- 3 cups equivalent to sugar. Please use a granular alternative that is 1:1 with sugar in volume for best results.

Butter- 2 sticks or 1 cup softened to room temperature.

Shortening- 1/2 cup. Shortening is preferred as it will give this cake the volume and texture that it needs to be a true pound cake. However

not everyone is a fan of shortening. Thus, you could use butter or oil or a similar fat instead (1/2 cup in addition to the 2 sticks above).

Eggs- 5.

Cocoa Powder- 1/2 cup.

Milk- 1 cup.

Vanilla Extract-2 teaspoons.
Preheat your oven to 325. Prep your pan well for nonstick.

In a small bowl, mix together your flour, salt, and baking powder. Set this aside.

Now in a mixing bowl, creme together the butter, shortening and the sugar alternative.

Add the dry ingredients from the first bowl to the mixing bowl, gently stirring between additions. Then add the eggs one egg at a time, gently stirring between additions as well.

Stir the cocoa powder, milk and vanilla extract, taking care to not over mix. However, the ingredients should be blended.

Pour the batter into the prepped baking pan.

Bake for 1 hour plus 20 minutes, check to see if it is done (using the clean toothpick method should work). If it is not done, check every 5-10 minutes until done.

Remove the cake from the oven and allow to cool for at least 30 minuted before you remove it from the pan.
Please see post for options etc,