(Click Here to Print)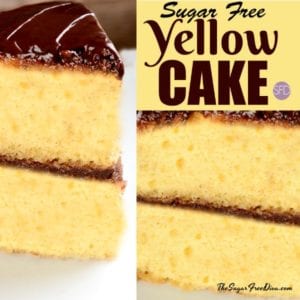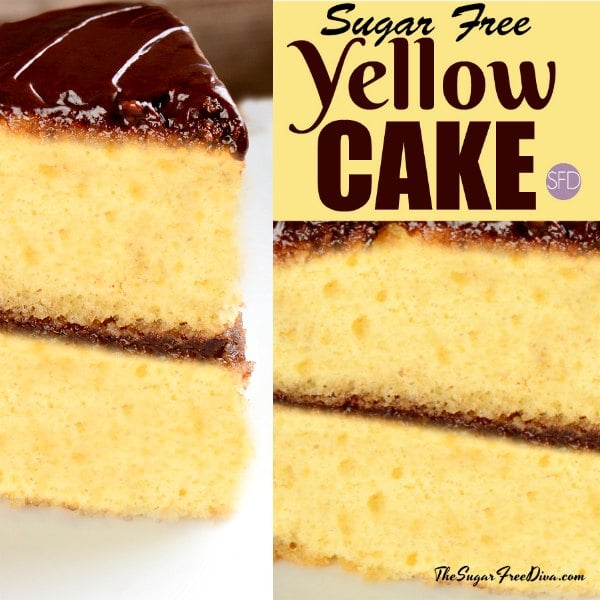 Sugar Free Yellow Cake
A basic yellow cake recipe without sugar added to it.
Servings
2
round cake pans or equivalent.
Cake Flour- 2 cups. Make sure that your cake flour has no added sugar in it. You can optionally use 1 3/4 cup of All Purpose flour sifted together with 1/4 cup of cornstarch.

Baking Powder- 2 teaspoons.

Salt- 1/2 teaspoon.

Butter- 1/2 cup + 1 tablespoon softened.

Sugar Alternative- equivalent to 1 cup of sugar. For best results

please use a granular product that is 1:1 with sugar in volume.

Eggs- 3.

Vanilla Extract- 2 teaspoons.

Milk or creme- 3/4 cup + 1 tablespoon. We will add this divided.
This recipe should be good for 2 8-9" cake pans.

Prep your cake pans for nonstick by both greasing and dusting them with flour. Preheat your oven to 325.

Sift together the flour, baking powder, and salt. Set this aside as we will be adding this to the mixing bowl later on and divided.

In a mixing bowl and mixer set to medium speed, beat together your sugar alternative and butter until smooth.. This should take about 4-5 minutes to achieve.

Next, add your eggs one at a time, beating between additions. Then mix in the vanilla extract.

Slow down the mixer to a slow speed so that you can alternate adding the dry and wet ingredients to the mixing bowl. Start by adding 1/3rd of the dry ingredients from the bowl that you had set aside earlier and then 1/3rd of the milk. For example, add one third of the dry,stir, and then 1/3 of the wet and repeat until all ingredients have been added.

Bake for 25-28 minutes or until a toothpick comes out clean. This cake will not necessarily brown however.

Allow the cake to cool for about 10 minutes after you take it out of the oven an before you remove it from the pans.
Please see post for details.