(Click Here to Print)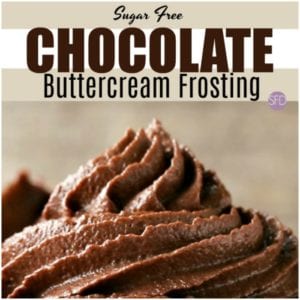 Sugar Free Chocolate Buttercream Frosting
A sugar free version of a chocolate buttercream frosting
Servings
1
average cake, 2 rounds, 12-18 cupcakes depending on thickness.
Butter- 1/2 cup

1 stick softened to room temperature.

Sugar Free Powdered Sugar- 3 cups. You can make this yourself using this recipe  or buy sugar free powdered sugar online here.

Unsweetened Baking Chocolate-- 1 4 ounce bar. Melt this and use it at room temperature. Sometimes I will just put mine in sunshine and allow it to melt while I work. Be sure to put it on a plate or in a bowl if you decide to do this.

Vanilla extract

can sub in rum or other extract..- 2 teaspoons.

Dairy- Milk

Buttercream, or Greek Yogurt- 3-4 tablespoons depending on desired thickness.

How to make Sugar Free Chocolate Buttercream Frosting

By the way

if you are looking for more of a cocoa frosting, check out this recipe for sugar free cocoa buttercream frosting.
Start by whipping up your butter to make it fluffy. I use a whisk attachment on my mixer.

Add the sugar free powdered sugar to the butter. Switch to a paddle attachment or mix by hand using a spoon. Cream this together.

Stir in the chocolate and the vanilla extract.

When the chocolate appears to be blended in, add a tablespoon of your dairy. Whip this up and if your frosting seems to be too thick continue to add additional dairy, up to a 1 tablespoon at a time, until you have reached your desired texture. However, to thicken up a thin frosting, simply add additional sugar a teaspoon at a time.

This should frost an average sized cake depending the thickness of your frosting.
Please see post for details on this recipe and the ingredients.