(Click Here to Print)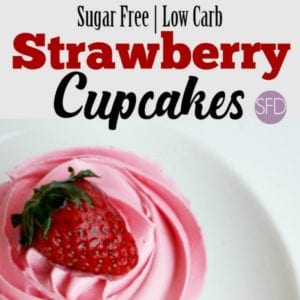 Sugar Free Strawberry Cupcakes
A sugar free way to make strawberry cupcakes. This can be made low carb or gluten free as well.
Servings
12
average sized cupcakes
Strawberries- 2/3 cups whole

about 6-8 average strawberries.

Flour

all purpose- 1 1/2 cups sifted. Can sub in low carb or gluten free flour. Usegluten free flour instead of regular flour. Or, you can make this recipe low carb by using low carb Carbalose flour.

Baking Powder- 1 teaspoon.

Butter- 3/4 cup

1 1/2 sticks softened to room temperature.

Sugar Alternative- equivalent to 1 cup of sugar. Please use granular for best results.

Vanilla Extract- 1 teaspoon.

Milk or Cream- 2 tablespoons.

Eggs- 2

Optional- A few drops of red food color

and/or Strawberry flavored pudding mix for added flavor 1-2 tablespoon, or go without the strawberries by using 1 package of sugar free strawberry gelatin 1/2 cup of water (sugar free but, not as good as using strawberries).
Start by preheating your oven to 325 and prepping a cupcake tin for nonstick (12 average sized cupcakes).

Remove the tops from the strawberries and place the strawberries in a food processor or blender. Then puree the strawberries. You can strain the puree if desired. Set this aside.

In another bowl, whisk or sift together the flour and baking powder. Set this bowl aside.

Now, in a mixing bowl cream together the butter and the sugar alternative. I use a paddle attachment and set the mixer on medium speed. This will not be as fluffy looking as a sugar and butter creaming. Once this is creamed together you can mix in the strawberry puree.

Set the mixer on slow and add half of the dry ingredients from the first bowl (flour). Mix this for about 5-10 seconds and then add the remaining flour.  You may need to stop the mixer and scrape the bowl as you do this step. Next you can add the milk and eggs and any optional ingredients one at a time. If you are using an optional flour (gluten free or low carb) please read the package to any adjustments that may have to be made. You will most likely have to add a bit extra of the milk/cream to compensate for the difference.

Bake for 22-25 minutes or until a toothpick comes out clean.
Please see post for details.