(Click Here to Print)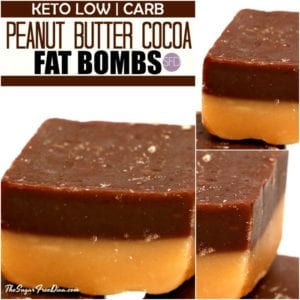 KETO LOW CARB Peanut Butter Cocoa FAT BOMBS
A double layer of goodness in a fat bomb. Enjoy both a peanut butter layer and a cocoa flavored layer.
Cream Cheese- 1- 8 ounce package softened to room temperature.

Sugar Free Peanut Butter - 1/2 cup.

Coconut Oil- 1/2 cup.

Vanilla Extract- 1 teaspoon.

Cocoa Keto Fat Bombs- 1 batch

prepared. Please sub out the peanut butter with butter in this recipe if you wish to avoid a peanut butter overload of taste in the final bomb.
Start by prepping your rimmed baking pan with parchment paper which covers the entire pan. Then set this aside.

In a medium bowl, cream together the cream cheese and peanut butter. I find that it works well by doing this by hand rather than with a mixer. Either method works however.

Add the coconut oil and vanilla extract to the bowl and continue to cream this together.

When the ingredients appear to be blended together you can press the mix into your prepared pan. Try to do this as evenly as possible. I like to use a rubber spatula to do this. Place this in the freezer.

While the bottom layer, the peanut butter layer, is getting firm you can prepare the next layer. Use this recipe for Cocoa Keto Fat Bombs. You can sub in regular softened butter for the peanut butter in the recipe to avoid a peanut butter overload in the taste of your fat bombs.

When your cocoa bomb batter is completed and the peanut butter bombs have set in the pan you can remove the pan from the freeze. Press the second layer, the cocoa bomb layer, into the pan over the peanut butter layer. Return the pan to the freezer for another 15 minutes or until firm. Then, remove the pan from the freezer and cut into squares.

Tip: use the parchment paper to remove the bombs from the pan. Then use individually cut plastic wrap pieces to wrap the individual squares. You can store these individual squares in the freezer or refrigerator.
Please see post for details on ingredients and instructions.